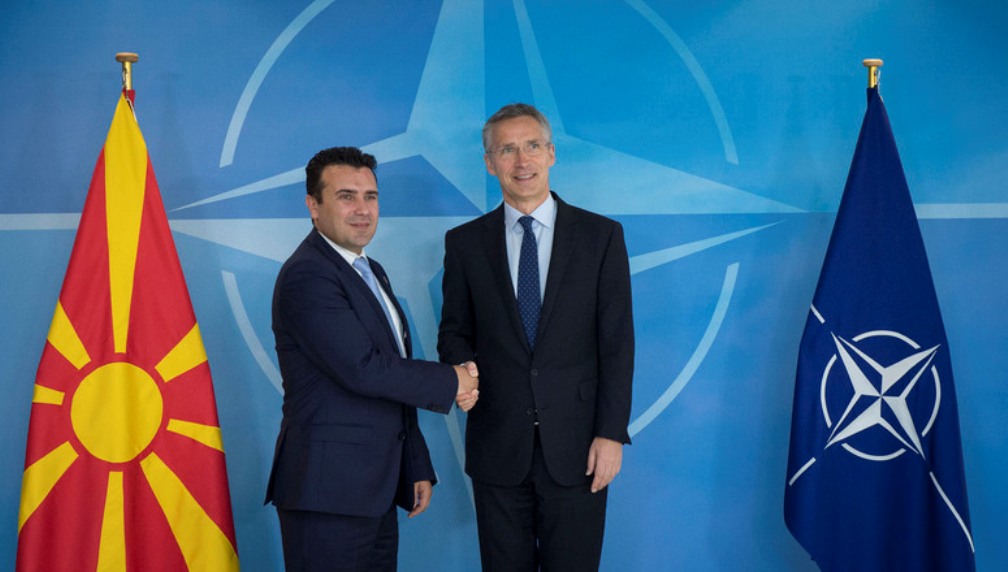 A joint press conference of NATO Secretary-General Jens Stoltenberg and the new Prime Minister of FYROM Zoran Zaev was held in Brussels today.
In his statement, the FYROM premier stressed the importance of good relations with neighboring countries and his commitment to the objective of improving cooperation with neighbors, noting that despite his country's efforts to join NATO, even though this is not fair, the government remains committed to improving relations with its neighbors and enhancing dialogue.
In the questions that followed, the NATO Secretary General was asked to comment on whether there is any possibility of amending the Bucharest Communiqué, if FYROM made the necessary reforms and there was a relative improvement of good neighborly relations with Greece, he made clear that NATO position remains the same as that expressed at the Bucharest summit in 2008 when the Alliance commited to FYROM's accession but it was clearly stated that a mutually acceptable solution on the name issue was necessary. At this point he expressed his satisfaction with the very clear message of the new government regarding its intention to intensify the dialogue with Greece in order to try to find a mutually acceptable solution within the framework of the United Nations.
Asked precisely what his plan is about negotiations on accession to NATO and if he is trying to introduce another name, i.e. Upper Macedonia, Ζaev noted hat persistence in a position causes crises and that he will try with all possible means to obtain the status of a full NATO member, adding that he is waiting for the support of Greek citizens, via the government and opposition, in order for the issue to be resolved.
He also said that there are alternatives, expressing the hope that even with temporary reference, as in the case of Montenegro, the country will be able to receive an invitation from NATO, and then during the two years of the ratification process, there will be time to continue discussions with Greece and find a solution to the name issue, stressing that all possible alternatives can be discussed and that these depend more on the neighbor in the South.
In a final question as to whether NATO will accept a temporary reference to move ahead with the FYROM accession process, Stoltenberg reiterated that what NATO clearly called for is a mutually acceptable solution to the name issue, stating that it is not his duty to consider what this solution will be, as long as it is acceptable to both Greece and FYROM./ΙΒΝΑ