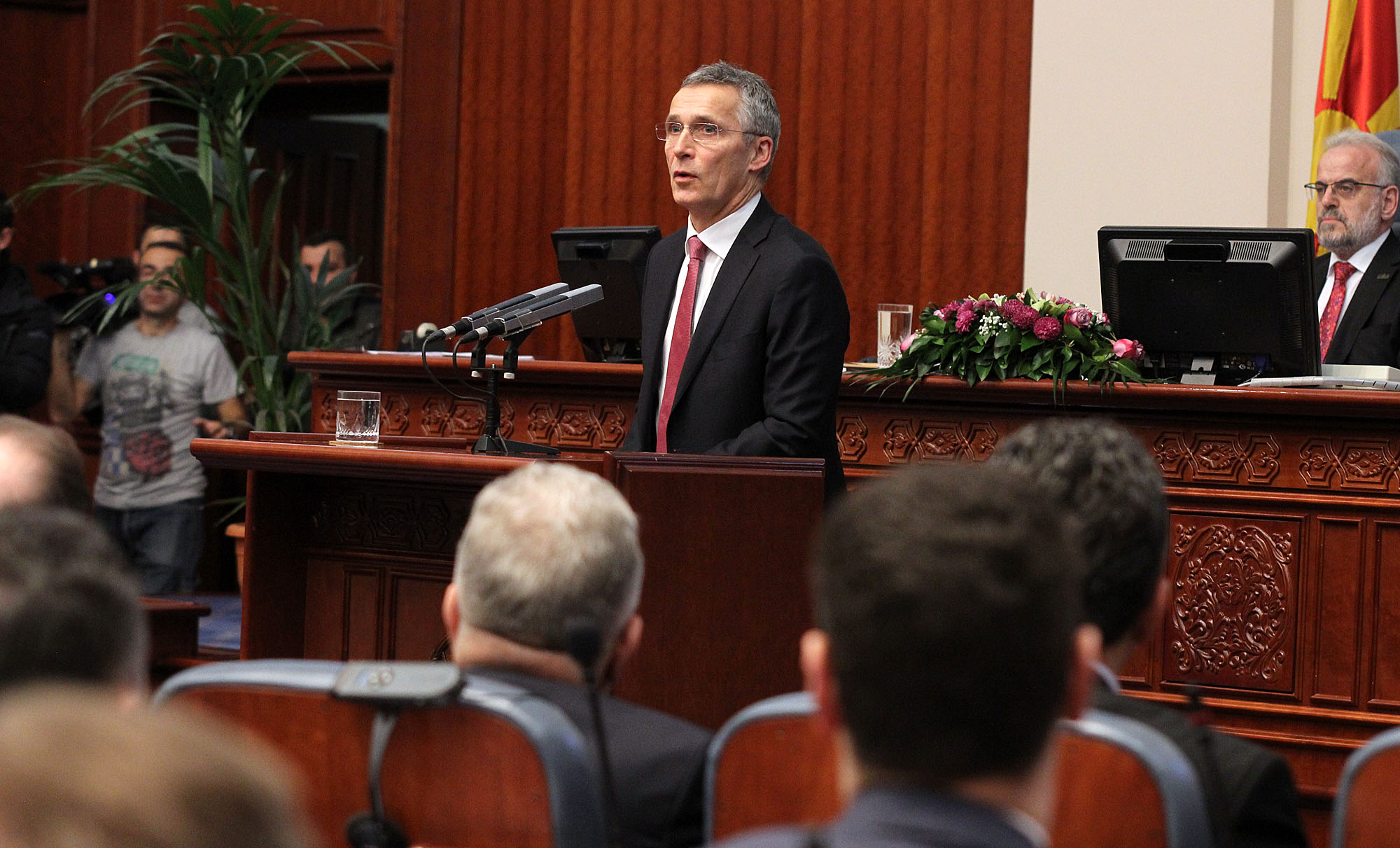 NATO's Secretary General, Jens Stoltenberg has made it clear today that without a solution to the name dispute with Greece, FYROM will not be able to become a member of this organization. He said that he has arrived in Skopje to convey this clear message.
"There's no other way of becoming a NATO member besides solving the dispute with Greece concerning the constitutional name of your country. We were very clear about this in 2008 in the Summit of Bucharest, but we're also making it clear now. There is no plan B", Stoltenberg said. According to him, NATO is ready to send the country an invite as soon as it addresses this issue.
According to Stoltenberg, accession in the NATO requires reforms to be delivered. He praised the adoption of the law on languages which advances the use of the Albanian language, the adoption of the agreement for good neighboring relations with Bulgaria and the plan of reforms. Present in Parliament today were also the MPs of the largest opposition party, VMRO-DPMNE.
The busy agenda
Prime Minister Zoran Zaev said that the visit is crucial in order for 2018 to be a historical year for the country and the region. He said that the government is committed to find a solution for the name contest and the implementation of reforms. "It's time for the countries that want to be part of the Alliance to finalize the processes that they have started", Zaev said, adding that the majority of citizens of this country are in favor of its accession. He also said that he's expecting the country to receive an invitation in the NATO's Summit in July this year. After the meeting with Mr. Stoltenberg, President George Ivanov has only underlined cooperation with the NATO, without saying anything about the issue of the name. He said that the country is also contributing in NATO's peacemaking missions with its soldiers. Vlatko Gorcev of VMRO-DPMNE said that the opposition's strategic goal is the country's accession in the NATO. He said that the meeting with Stoltenberg also discussed the pressure that the ruling party is putting on the opposition. The leader of BDI, Ali Ahmeti said that the country must find a solution on the name dispute and work for the implementation of reforms if it wants to become a NATO member country.
Protest in front of Parliament
While NATO's top official was addressing MPs, tens of protesters gathered outside parliament. Solza Grceva, former social democrat MP said that she was protesting "against the anti-Macedonian policy of the new government, the adoption of the law on languages and against Macedonia's accession in the NATO". Afterward, protesters burned NATO's flag, while stressing that they do not accept the change of the constitutional name. /balkaneu.com/