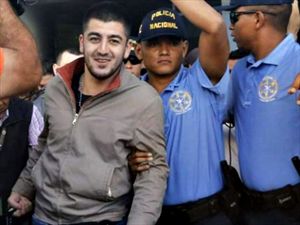 Athens, November 20, 2015/Independent Balkan News Agency
By Spiros Sideris
The Greek names by which five Syrians were arrested Wednesday by the authorities of Honduras while trying to travel to the US and the pictures of the Greek passports found on them were published on the website of the correspondent Michalis Ignatiou.
The stolen passports bear the following names: Konstantinos Marinakis, Vassilios Bouzas, Charalambos Kyrimopoulos, Alexandros Tzempelikos, Anastasios Bellios.
The Honduran authorities arrested five Syrians allegedly trying to reach the US using stolen passports of the Greek Republic.
This case does not appear to be linked to the attacks in Paris last Friday, according to a statement released by the police.
The group of Syrian men arrived late on Tuesday in Tegucigalpa, capital of Honduras, from Costa Rica and planned to proceed to the border with neighboring Guatemala. According to the police, the passports had been forged and the photographs of their holders had been replaced with those of the Syrians.
"We received information from police services (of other states) that these five Syrians departed from Greece and passed through Turkey, Brazil, Argentina and San Jose in Costa Rica before finally arriving in Tegucigalpa", Anibal Baka, representative of the Police of Honduras, said.
"They are regular Syrians", he added.