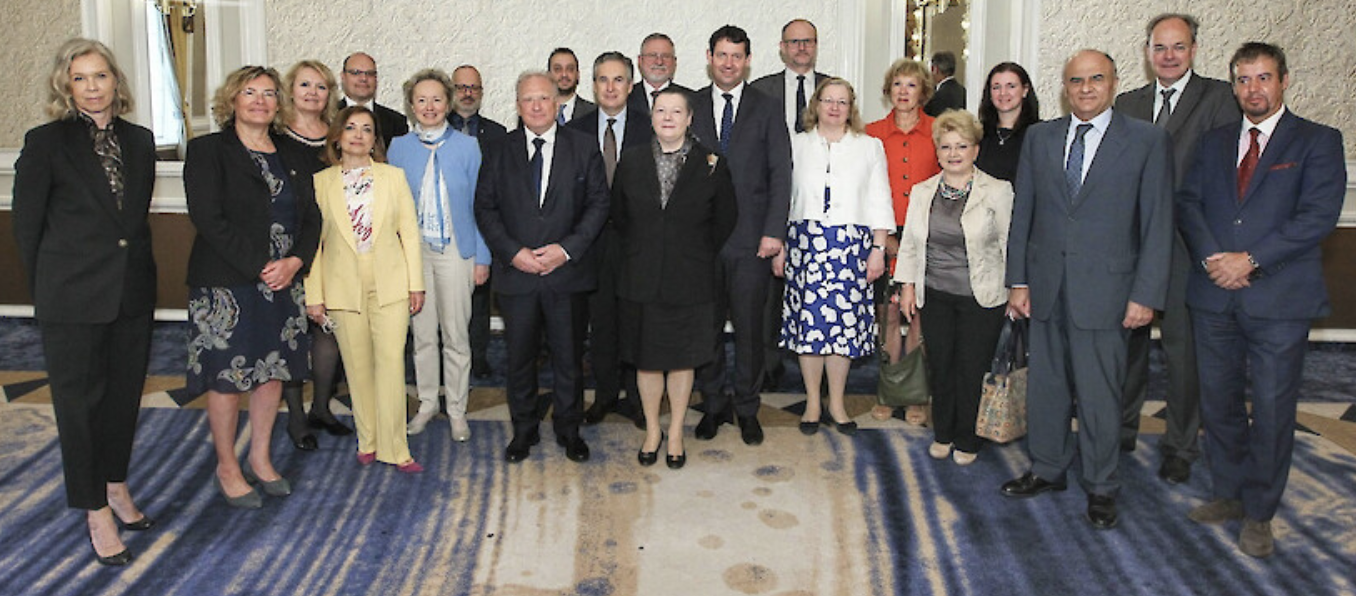 The Bulgarian Minister of Foreign Affairs Svetlan Stoev discussed with the Ambassadors of the EU Member States priority issues on the agenda of the Union, including recovery from the effects of COVID-19, including the implementation of the Mechanism for Recovery and Sustainability, Environment and Climate, Migration, the EU enlargement process.
"Bulgaria has always supported the European perspective of the countries of the Western Balkans and as a country in the region is clearly aware that the path to the EU is the strongest factor in the transition to democratic governance," said our Foreign Minister.
Regarding the European integration of the Republic of Northern Macedonia, Svetlan Stoev stressed that Bulgaria's position is clear, consistent, and predictable and has not changed. He stated that the caretaker government is guided by the Framework Position and the declaration of the National Assembly from October 2019. Our position also enjoys the support of 85 percent of Bulgarian citizens.
"Bulgaria has always shown a will for a constructive and pragmatic dialogue with Skopje. We will continue to work for the restoration of trust, "said Minister Stoev. "We expect legal guarantees for compliance with the 2017 Treaty and a constructive response from Skopje for a long-term solution to the issue," he added.
Minister Stoev welcomed the adoption of the digital certificate for COVID-19 of the EU and informed that the Bulgarian authorities are already issuing certificates compatible with European requirements.
"We believe that the EU digital certificate will facilitate safe and free movement and contribute to the revitalization of the economy, tourism and international mobility, while its adoption should not lead to additional barriers, privileges, restrictions and discrimination," he said. Regarding the European Commission's proposal for an EU vaccine sharing mechanism, Bulgaria is strongly committed to providing vaccines to the countries of the Western Balkans as soon as possible and is in contact with the European Commission under the relevant procedures.
In connection with the National Plan for Recovery and Resilience, Minister Stoev stressed that the caretaker government highly appreciates the Mechanism for Recovery and Resilience and works actively on adapting the national plan, focusing on future-oriented projects that will support the green transition and digital transformation.
The environment and the climate were also among the highlights of Minister Stoev's speech. He stressed that Bulgaria supports and works hard to achieve the EU's goal of climate neutrality by 2050. Our country has significantly contributed to the EU's climate efforts by reducing its greenhouse gas emissions by 43.2% in 2018 compared to 1990 levels, well above the EU average of 25.2%.
"Given the agreement reached to increase the EU's overall climate target by 2030, we must emphasize that the specific circumstances in our country, including socio-economic and our starting position, impose objective limitations on our ambition," said Stoev. He clarified that such an ambitious goal must be supported by a "facilitation framework" to ensure a fair and socially balanced transition.
The meeting of Minister Stoev with the ambassadors of the EU member states in Bulgaria was organized by the Ambassador of Portugal Maria Coelho Ribeiro da Silva as a final event of the Portuguese Presidency of the Council of the EU, which ends at the end of June, the Foreign Ministry announced. Minister Stoev thanked the Portuguese Presidency for the skillful and effective guidelines in the situation of the COVID-19 pandemic, which made possible the distribution of 10 million accelerated doses of vaccines in a spirit of solidarity./ibna