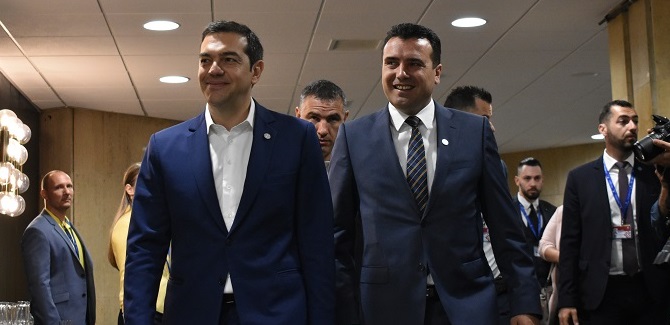 Prime Minister Zoran Zaev said Saturday that he has still not talked over the phone with Greek counterpart Alexis Tsipras regarding a possible solution to the name issue.
PM Zaev told reporters at an event launching the construction works on express road Stip-Radovis there are certain technical problems that need to be resolved by both sides.
"You know I have been an optimist since the beginning and would refrain from presenting details. I believe we will reach a solution and the telephone conversation will take place as soon as these technical problems are removed. I also believe we will announce the agreement to the public very soon, so that we reach the June deadline before the European Council, because it will decide on the start of Macedonia's EU accession talks. Therefore, we are entirely focused and committed these days to the provisions of the agreement, details that matter," said Zaev.
He added that once an agreement is reached, its signing will take place in Prespa, because this has been a wish even since the Davos meeting between the two PMs back in January.
"The signing event will be held there, this has been a wish since Davos. The aspects discussed by the countries' foreign ministers should now be transformed into a legal document., while PM Tsipras and myself should come to a decision. I am prepared for this conversation, I know he is too. It is of course important to explain this to the Macedonian opposition so that it accompanies us," noted Zaev,
According to him, the most important thing is to explain to the citizens of fYRO Macedonia, but also the opposition and citizens in Greece.
"Every agreement aims not only at removing a certain problem, but also to represent a tool for increased friendship between two nations. I believe both sides will embrace it as such and see it as an incentive for increased mutual cooperation in all aspects," said Zaev.
The PM failed to comment on Greek media reports regarding proposal Republic of Northern Macedonia.
"We will inform the citizens as soon as we decide on names, adjectives, qualifiers," added Zaev./IBNA