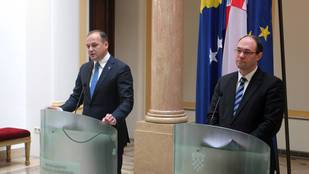 Croatia strongly supports Kosovo's independence and territorial integrity and wants to contribute, through the European partnership, to the strengthening of the Kosovo institutions, and to provide assistance in the implementation of the country's Stabilisation and Association Agreement, Croatian Foreign Minister Davor Ivo Stier said after talks with his Kosovo counterpart Enver Hoxhaj in Zagreb on Monday.
"Croatia strongly supports Kosovo's independence and territorial integrity," Stier told a news conference, stressing that the two ministries had an excellent cooperation.
"We have with Kosovo also an agreement on the European partnership and within that framework we want to continue our cooperation with Polish and German experts in supporting the Kosovo institutions and in the implementation of the Stabilisation and Association Agreement," said Stier.
He recalled that during Croatia's presidency of the US-Adriatic Charter a declaration was adopted representing an important step towards Kosovo's admission as a member of that initiative. Commenting on regional stability, Stier voiced his full support to the dialogue between Kosovo and Serbia.
The Croatian minister announced a closer economic cooperation with Kosovo.
"In March we will sign an agreement on the avoidance of double taxation and an agreement on the cooperation of our customs services," said Stier.
Hoxhaj thanked Croatia for its role in Kosovo's gaining freedom and independence, adding that Kosovo wanted to enhance the excellent political relations with excellent economic relations.
"We are grateful to Croatia for its support in European institutions… along with the excellent political relations, we want to build excellent economic relations as well," he said, expressing hope that a bilateral economic forum would be held soon.
Speaking about the situation in the north of Kosovo and the establishment of a community of Serb municipalities there, Hoxhaj said Pristina wanted to resolve that issue but was worried about the non-participation of Serb representatives, which he said evidenced a lack of political will on the part of Belgrade.
The establishment of such a community must be done in line with Kosovo's regulations and constitution, without any departures from them "or anything that would go beyond what is envisaged by the agreement from Brussels and the Ahtisaari plan," Hoxhaj stressed.
"Any executive powers of a community of Serb municipalities are out of the question… we want to integrate the Serb community in line with the Ahtisaari plan and the Kosovo Constitution," said Hoxhaj, expressing hope that Serb representatives would return to the Kosovo parliament.
He also said that a community of Serb municipalities acting as an extension of Serbia's authorities was unacceptable, too.
Commenting on a recent letter by Albanian and Croatian defence ministers to NATO's secretary-general in which they expressed concern about security and stability in Kosovo, Hoxhaj said that Kosovo considered Croatia and Albania as countries that stabilised the region.
He also mentioned the establishment of the Kosovo armed forces, noting that it should be a process by the international community which it had pledged to carry out.
"This is about completing the Ahtisaari plan for rounding off Kosovo's sovereignty," said Hoxhaj./IBNA
Source: eblnews.com