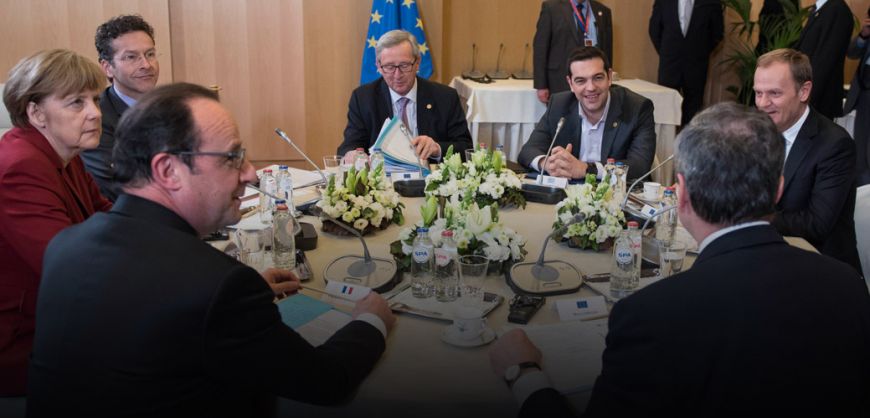 Brussels, March 20, 2015/ Independent Balkan News Agency
By Spiros Sideris
The 4-hour meeting looked at 'bold initiatives' to help Greece get out of its slump and avert the worst-case scenarios
EU leaders of Germany, France and the EU institutions met with Greek Prime Minister Alexis Tsipras on the sidelines of the EU Council at his request. Though Greece and its negotiation with international creditors was not on the summit's formal agenda, Greece's economic woes were ominous.
"The European Union needs bold political initiatives that respect both democracy and the treaties, so (as) to leave behind the crisis and to move towards growth," said Tsipras, arriving at the summit.
Following the conclusion of the EU summit, the eight-party mini-meeting started at around 11.30 p.m. (Greek time). It ran for four hours and ended at 3 a.m. at dawn with the attendance of Tsipras as well as German Chancellor Angela Merkel, French President Francois Hollande, European Commission President Jean-Claude Juncker, European Central Bank President Mario Draghi, Eurogroup Chief Jeroen Dijsselbloem, European Council Preisdent Donal Tusk and EU Council Secretary Uwe Corsepius.
What Greece got out of the meeting:
There will be no fifth review of the Greek economy as described in the second memorandum, hence Greece will not need to take any additional austerity measures or apply Hardouvelis e-mail.
The government will have exclusive responsibility for the choice of its policies, without technocrats intervening in decisions concerning draft laws as had been seen in recent days with the legislation on the humanitarian crisis.
Greece achieved greater flexibility in funding as leaders agreed to gradually open up the European Central Bank's (ECB) coffers, depending on the progress of reforms.
Hope that the markets would positively view on this margin given to Greece so that a sense of normalcy and calm could return.
What Greece gave:
The government promised to present and implement reforms as soon as possible. Brussels would evaluate the success of the reforms at a political level. Sources state that Tsipras pledged commitment to certain proposals.
The government has limited time until mid-April to achieve specific results. It is uncertain whether the reforms will be welcomed within Greece bearing in mind the Radical Left Coalition (SYRIZA) government's pre-election promises. The relevant list of pledges has yet to be made public.