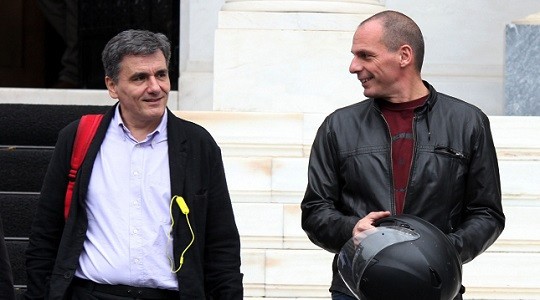 Athens, April 29, 2015/ Independent Balkan News Agency
By Spiros Sideris
Towards a gradual, step by step, agreement with the institutions proceeds the government, as it was made clear both from Finance Minister, Yanis Varoufakis and the Deputy Minister of International Economic Relations, Euclidis Tsakalotos, immediately after the first meeting of the "Political Negotiating Group" with their institutions.
The under general framework of the bill, with which the government expects to reach a progressive agreement with institutions, will be based on the "Varoufakis list", and was prepared Tuesday night so that it will be discussed in the cabinet Thursday.
According to Finance Minister, the list has been qualitatively enriched and it does not contain "red" loans and the bad bank, neither interventions in social insurance.
Regarding tax matters, in the provisions of the said bill will be included the issues of tax administration and better collectability of VAT, while the VAT rates structure will be negotiated in June. Moreover, it will not be included in this phase the 'overnight stay tax' in hotels and accommodation of the country.
For his part, Tsakalotos reported that "we are constantly learning from our experiences and mistakes. Victories and successes are collective, mistakes are collective as well. This is how we work, so we will continue with a collective approach. The government is united, the negotiating team is united".
Varoufakis added, refuting rumors about changes in the negotiating team, that "all these months there was an informal group of ministers. Now it is established more formally as a body. Responsibility is shared, it was always shared".
The subject of the teleconference of Brussels Group was to set the agenda for face to face talks that are expected to resume Wednesday.