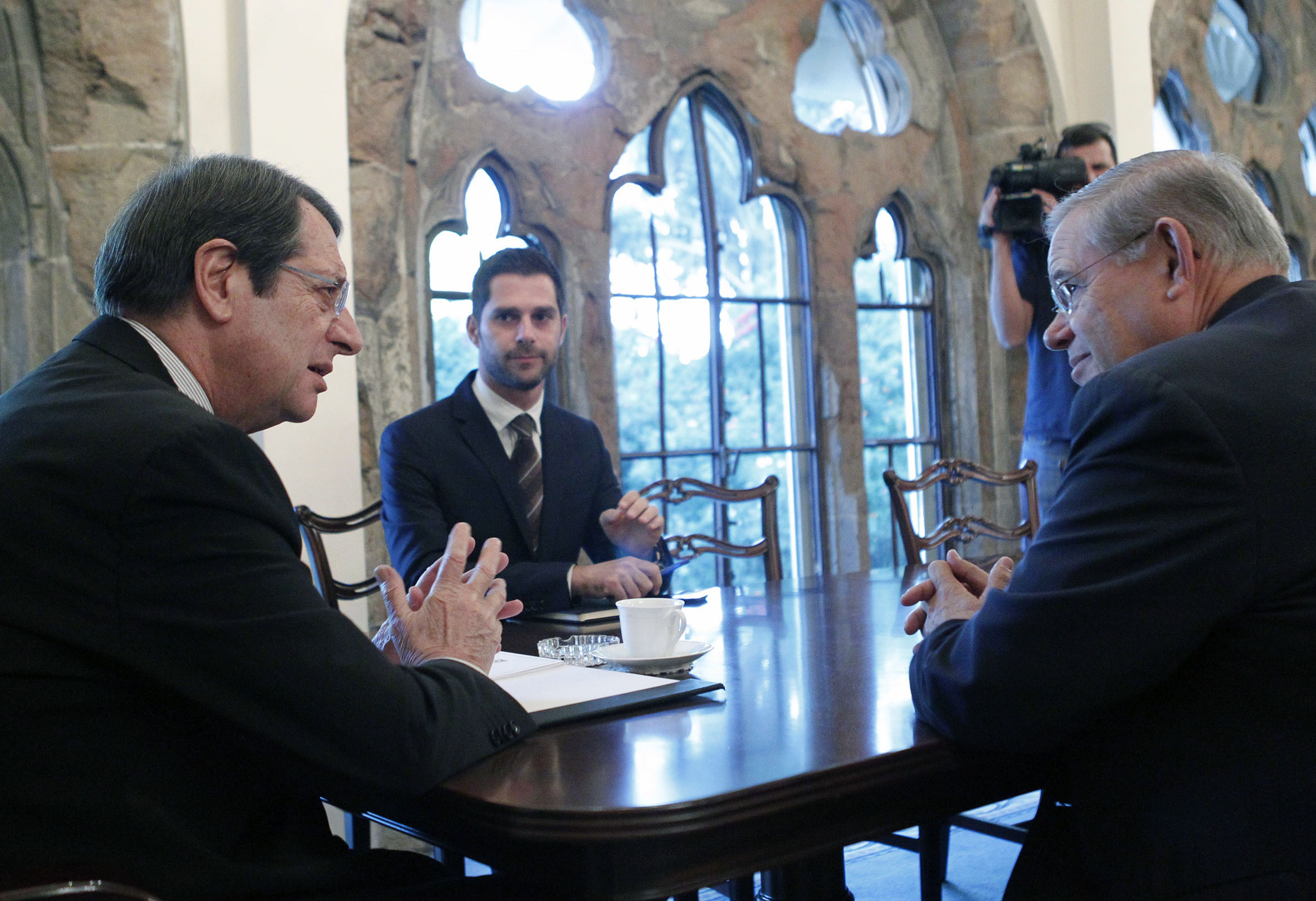 From the last visit of Menendez to Cyprus and during his meeting with the President of the Republic of Cyprus, Nicos Anastasiades
What was discussed in America, what preceded it and what does the promoted bill provide?
By Michalis Michael
According to what the Cyprus news agency is broadcasting, the Cypriot Foreign Minister, Nikos Christodoulides completed his three-day visit to Washington, with the meeting in Capitol Hill with the head of the minority in the Senate's Foreign Relations Committee, Robert Menendez. He also participated in the AIPAC conference, the largest organization of the American-Jewish lobby.
The central theme of the meeting is the issue of the arms embargo imposed on the Republic of Cyprus, which is soon expected to have Senator Menendez and members of the Congress present a bill to abolish it. "I have always had the view to lifting the arms embargo", the Democratic senator said. "I think we are getting closer and we need to pay tribute to the Cypriot government for a series of actions that I think make this move possible," he added.
Menendez described as important his meeting with the Cypriot Foreign Minister.
Baby steps
Despite the above-mentioned developments, information from the diplomatic background indicates that the lifting of the embargo will be phased out. The ferments had already begun, however, as the same information says no unplanned actions will be taken.
A guide to developments appears to be the statement of intent signed by Cypriot-US Foreign Ministers, Christodoulides and Pompeo, last year in the US. Among other things, there was a reference to the fields of cooperation between the two countries in the Eastern Mediterranean, such as maritime security, terrorism, etc.
Consequently, Cypriot soldiers traveled to the United States and took part in seminars and all this in the context of the fact that "despite its small territory and its population (…) the strategic position of Cyprus, the EU membership and the support of Western democratic principles make it an important partner for the US", a US Foreign Ministry report stated.
What the bill outlines
According to what has been published so far, the US bill promoted by the minority head of the Foreign Relations Committee, Robert Menendez, outlines the reasons why the time has now come to lift the embargo, and is also states that the Senate considers that:
-The direct sale and transfer of arms from the US to the Republic of Cyprus will strengthen US defense interests in Europe, helping to reduce Cyprus's dependence on other countries that are challenging the United States.
-It is in the US interest:
(A) to continue to support the United Nations in its efforts to find a solution to the division of Cyprus
(B) to confirm the importance of the demilitarization of the island of Cyprus, and
(C) for the Republic of Cyprus to enter the NATO Partnership for Peace program./ibna