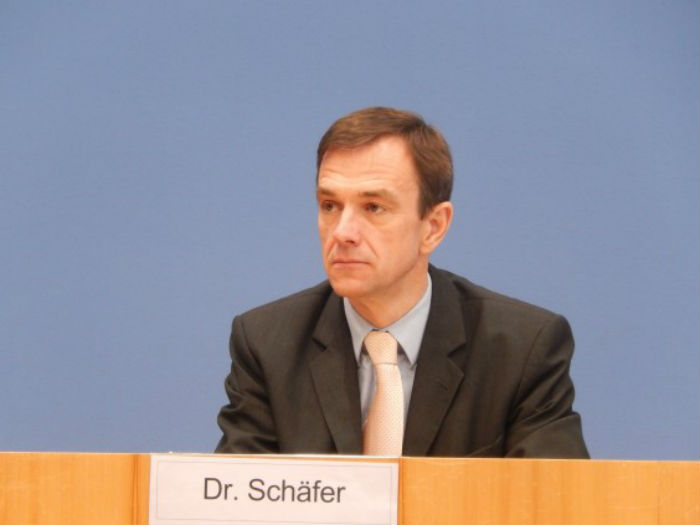 The German Ministry of Foreign believes the solution to the Cyprus problem is in the final stretch, and expresses hope for a solution to be reached. According to statements made yesterday by the spokesperson of the German Foreign Ministry, Martin Schaefer (photo), solving the Cyprus problem is not only of regional but also of European importance.
Previously, the German Foreign Minister Frank-Walter Steinmeier, in a statement, had expressed the view that the negotiations in Geneva on the reunification of Cyprus are in the "final straight". At the same time he expressed the hope that the Greek Cypriot and the Turkish Cypriot side "will not lose their courage and seek compromises on the rest of the controversial issues". In another part of the statement of Mr. Steinmeier called the guarantor powers to help achieve a "good solution" and to "satisfy the will of Cypriots for a reunification", The fact that for the first time the guarantor powers will take part in the talks is seen as a "good sign" by the German Foreign Ministry.
Moreover, the representative of the German Foreign Minister, answering related questions during yesterday's journalists briefing, was asked to say whether the above assessment of the German Foreign Minister is correct, given that it is still not known whether on Thursday in Geneva, the guarantor forces will be represented at the highest level. Schaefer replied that "I don't believe that for a final solution it is necessary to participate in the talks the heads of state or prime ministers", making a reference to the example of negotiations on Iran's nuclear program, where not even the Foreign Ministers of the participating countries were always present.
The spokesperson of the German Foreign Minister eyes positively the fact that in the negotiations will also be involved the EU. In this way it can contribute significantly to solving "certain issues" related to the solution, that is issues related to the acquis.
The challenge for the Cyprus problem is for all parties to maintain a positive attitude and be prepared to support the measures that are necessary", Schaefer pointed out. Specifically, he asked Athens and Ankara to respect the compromises in which the two communities will agree – this also concerns security issues, such as the stay of troops in Cyprus. Berlin, however, knows that there are "difficult" issues to be discussed. The assessment is that both leaders are willing to make "difficult and painful compromises" in order to overcome the "unbearable division" of the island.
When asked about the expectations for a solution this week, Schaefer replied that "the menu is ready, but it remains to be seen if all dishes will be served"./IBNA