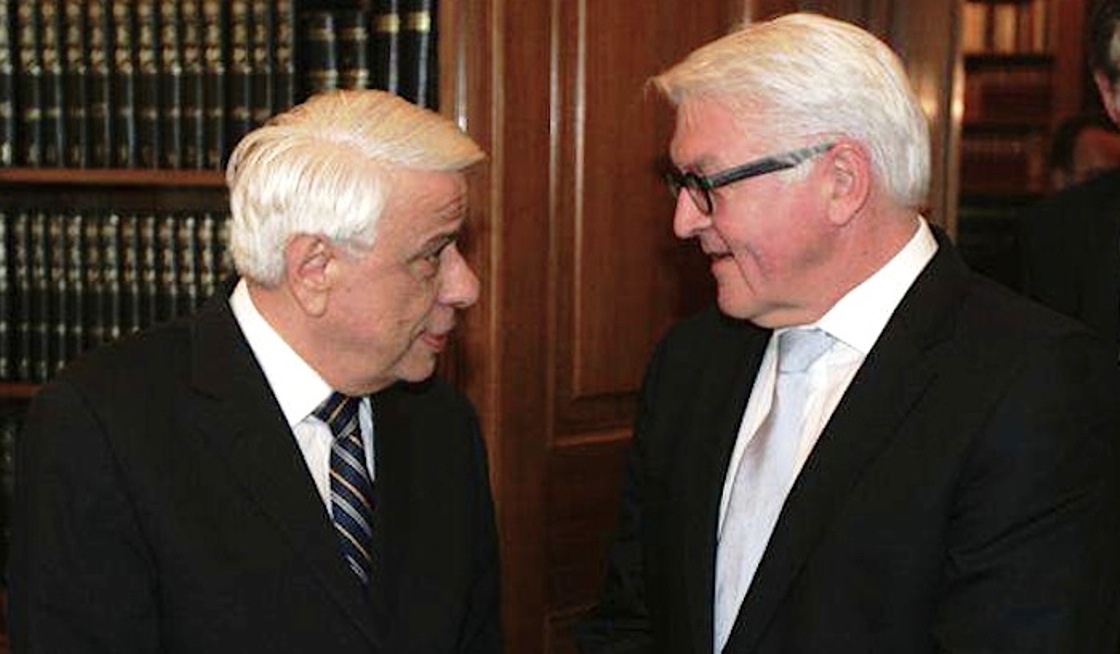 Europe is dealing with an unusual crisis which goes beyond Britain's planned exit from the European Union and will not blow over in a few months or years, German President Frank-Walter Steinmeier said in joint press conference with Greek President Prokopis Pavlopoulos in Athens on Friday.
The remaining 27 member-states should strive to keep Europe united as "what we considered self-evident may not be so self-evident", he said.
Steinmeier is on a two-day visit to the Greek capital to open the international contemporary art exhibition, documenta14, following an invitation by Pavlopoulos.
One way of overcoming people's indifference for politics is by finding answers to problems which have not been answered yet, he said, noting there is much more activity and discussion in the EU today than 2-3 years ago.
"It's important to provide real answers on questions that have not been answered yet. There are issues of domestic and external security. People are ready for consultations and we have to provide answers on migration, growth and employment," he continued. "The limited consultations between us are no longer enough. We have to provide real solutions to problems and answers that our people so far haven't heard from us," he added.
Commenting on the migration crisis, Steinmeier said the large waves of migration have had consequences on Greece and created additional challenges.
"The answer to all these issues should not just be controlling the EU's external borders but a different asylum policy […] we'll stand on Greece's side on migration," he said, adding that Europe must give credit to Greece for the weight it has shouldered.
On the economic crisis, the German president said the completion of the review must not monopolize Greek-German relations adding he's pleased with today's news of a deal between the Greek government and its creditors. "I hope there will be a comprehensive conclusion of the review to end uncertainty," he said.
Commenting on documenta14, which will be inaugurated tonight by the two presidents, Steinmeier said he doesn't know what he will see but he expects "a fresh impetus and different view of our relations".
Welcoming the German president to the Presidential Mansion, Pavlopoulos said his visit takes place at a crucial time for the EU and the Eurozone.
"I want to assure you that Greece will overcome the crisis and will remain in the EU and Eurozone. Greece is doing so with the great sacrifices of its people. I believe that Greece's sacrifices should be taken into account. Greece will meet in full its obligations provided that its partners do the same," he said and hailed Eurogroup's decision to approve the return of the institutions to Greece.
Commenting on developments in Syria, he said Europe's mission is to ensure peace and to help end the war, especially in Syria. "The end of the war is not only a question of geo-strategic objectives, but also about the consolidation of peace and humanity," he said."Europe must respond to the barbaric terrorism of Jihadists as befits those who commit crimes against humanity."
On migration, Pavlopoulos said it must be handled with humanism and solidarity. "There can be no European peoples with phobias towards refugees," he said, adding that Europe has to defend people's basic rights.
"We're ready to cooperate with all our partners and Germany for a strong Europe, refuting those who rushed to leave Europe believing that it cannot reach its final goal," he continued, noting that Greece so dedicated to its European orientation that it incorporates its national issues into a European framework.
He then cited the Lausanne Treaty, saying it defines EU borders and questioning it will not be tolerated. Greece wants to support Turkey's European path but this hinges on the full respect of international and European law.
PM Tsipras receives German President at Maximos Mansion
Following the press conference, Prime Minister Alexis Tsipras also received the German President at the Maximos Mansion in Athens, greeting him as a politician that is fighting for Europe's unity and a good friend of Greece. He noted that art and culture were a bridge that could help unite the Greek and German people, overcoming the recent years' disruption in Greek-German relations.
Steinmeier, on his part, referred to a need to once again 'start talking positively about Europe and not consider that Europe is responsible for everything," especially in the wake of Brexit./IBNA