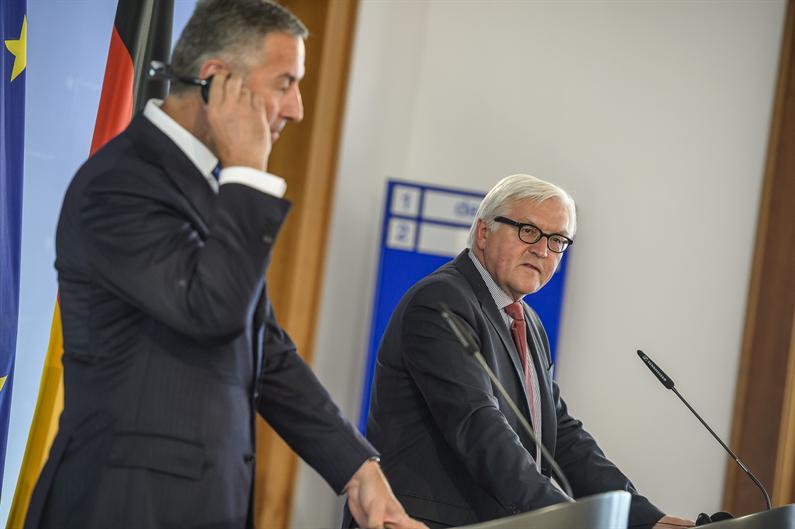 Podgorica, May 8, 2015/ Independent Balkan News Agency
By Adnan Prekic
German Foreign Minister Frank-Walter Steinmeier said that he hopes Montenegro will be 'invited to join NATO by the end of the year. Steinmeier made these remarks during a bilateral meeting with Montenegro's Prime Minister Milo Djukanovic in Berlin. Foreign Minister Steinmeier said that he considers Montenegro to be a successful story in the region and that he would like to see more examples like Montenegro.
German Foreign Minister Frank-Walter Steinmeier said that in foreign policy matters, particularly in the context of the Ukraine crisis, Montenegro has demonstrated its clear orientation towards European values. He also added that his country has supported the goal of NATO membership for Montenegro for a long time. The remaining questions are currently being discussed in intensive, focused talks with NATO. "If these talks yield a positive result, which I am confident they will, I will advocate that the NATO foreign ministers take the next important steps by the end of the year and invite Montenegro to join NATO", Steinmeier stated.
Prime Minister Đukanović stressed the importance of continuing the integration process for the entire region and its stability. "Integration is a way of strengthening stability in the region and it is important to remain committed to the open door policy. It is crucial for Europe and the Balkans stability", he pointed out.
Montenegro's Prime Minister Milo Đukanović met in Berlin with representatives of the Eastern Committee of German Economy to discuss possibilities of economic cooperation between Montenegro and Germany. Executive Director of the Committee Rainer Lindner pledged the association's strong support to Montenegro and its economic development, stressing its huge development potential that makes businessmen from Germany deepen cooperation and implementation of new projects.
Dukanović met in Berlin with senior officials of KfW Development Bank Christoph Tiskens and Kirk Mildner. "Montenegro's cooperation with Germany and its development organisations is of major importance for the country's socio-economic development. Fifteen-years long cooperation and more than three hundred million invested in projects in the fields of communal infrastructure, energy and transport testify to Germany's partnership and commitment to boosting Montenegro's development", underlined Prime Minister Đukanović.
Talks also revolved around cooperation in terms of energy and valorisation of the significant hydro potential of Montenegro. Representatives of the KfW also stressed Montenegro's leading position in the field of energy efficiency.