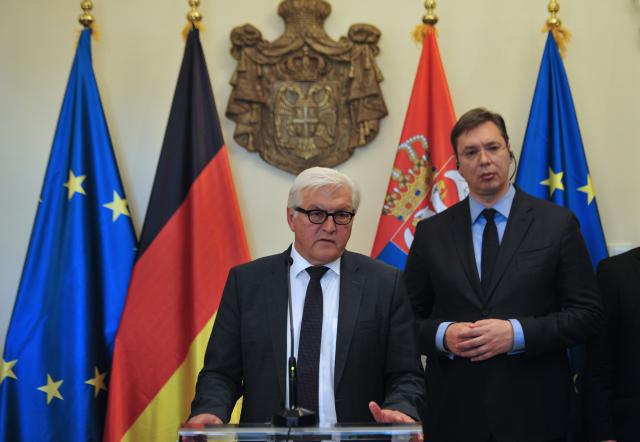 Belgrade, April 28, 2015/ Independent Balkan News Agency
By Milos Mitrovic
Berlin would support the opening of the first chapters in accession negotiations between Serbia and European Union, German Foreign Minister Frank-Walter Steinmeier said at the media conference with Serbian Prime Minister Aleksandar Vucic in Belgrade today.
Serbia officially started talks with the EU in January 2014, but none of the chapters have been opened so far. The crucial factor for the advance is negotiations on the normalisation of the relations between Belgrade and Pristina. Among EU countries, Germany especially insists on "full normalisation".
Premier Vucic suggested that Steinmeier's official visit was another proof of the current "best possible relations between Serbia and Germany in modern history".
Last October Vucic visited Berlin and has had talks with German Chancellor Angela Merkel.
Steinmeier underlined that he has come to Belgrade at an "important moment", a year after Vucic's government was formed, Tanjug news agency reports.
He added that Serbian premier's team has achieved a lot in terms of economy.
With regard to Belgrade-EU accession talks, Steinmeier said that Germany would be "on Serbia's side" in order for the first chapters to be opened. Germany is on "Serbia's disposal" for the country's European perspective to get stronger and turned into reliable objective, he added.
German Foreign Minister praised Serbia's efforts considering talks with Pristina, particularly the implementation of the Brussels agreements between the two sides. Steinmeier recalled that certain issues are still open "but responsibility is not only on the Serbian side".
He said that Germany is "impressed with reform efforts demonstrated by Serbian government aimed at making the economic climate more attractive for foreign investors, but also to improve the situation for its citizens through budget consolidation, more efficient administration and developing economic conditions for safer jobs", Tanjug reports.
PM Vucic said that advance in accession talks depend on "European partners" rather than Serbia, adding that "this is not about reforms but about relations with Pristina".
He underlined he was especially honored because of Steinmeier's praising for the reforms in Serbia. "We did a lot, we will do more, but there are lines we cannot cross", Vucic stressed.
Serbia will not recognise the independence of Kosovo, he reiterated adding that Belgrade seeks for "rational and reasonable" relations with Pristina.
Serbia will advance on its European path and protect its national interests at the same time, Vucic said, assessing that not everything depends on Serbia.
"At least something is on European partners", he said. Vucic thanked Steinmeier because German FM "has always regarded Serbia as important and significant" European country and "appreciated its influence and what has been done to preserve the stability in the region", as he said.
In Belgrade Steinmeier has also met President Tomislav Nikolic and Foreign Minister IvicaDacic, who is currently OSCE chairman. German FM attended OSCE troika meeting on Ukraine crisis.
photo: Tanjug