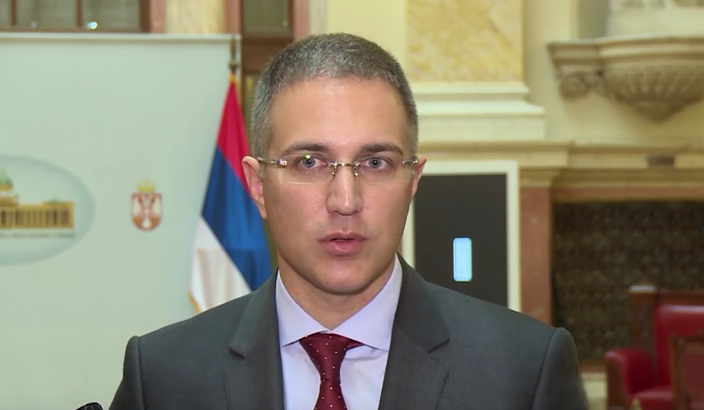 Serbia's strategic goal is EU accession and this is the way forward; whether our country joins is a matter for the EU and not the United States, Serbian Deputy Prime Minister and Interior Minister Nebojsa Stefanovic said on a television interview.
Stefanovic made the statement in response to US Special Envoy for the Balkans Matthew Palmer's statements,  that Serbia would not become an EU member unless it recognized Kosovo.
Stefanovic did not want to go into details about today's meeting between President Vucic and Palmer in Belgrade, but noted that the pressure on Serbia is increasing and talks will be difficult.
All this, according to Stefanovic, is because the US, and not only them, believes that there ΙΣ nothing more to negotiate, as Kosovo's independence is over and that there is now only one technical issue, its recognition by Serbia.
However, he said, Pristina's recent dismissal of Interpol's application for membership and thanks to a "serious policy" pursued by Vucic, the Kosovo issue had returned to the negotiating table.
Stefanovic said he was "very disappointed" with the silence from Brussels, for the fact that despite the fact that six years have passed since the signing of the Brussels Agreement, the issues of the Serbian municipalities has not yet been resolved.
"This is, above all, a weakness of the European Union", Stefanovic said, adding that it is inconceivable that Brussels can not force Pristina to honor something it has signed.
Thanks to Serbia's policy, namely President Vucic's, the number of countries withdrawing their recognition of Kosovo's independence is increasing and the number of countries that do not want to recognize Kosovo is also increasing.
However, Stefanovic noted that Serbia's position is "very difficult" because, as he said, there is no clear solution and no one is offers it.
All that is certain is that it is a difficult struggle to protect our national interests in Kosovo, which is part of Serbia's territory, Stefanovic said.
Commenting on Palmer's statement on the same television show, journalist Ljiljana Smajlovic noted that Palmer said nothing new and that he follows the standard US policy, which has been the same for the last 20 years.
According to her, even if Serbia had recognized Kosovo's independence 50 years ago, it would not have been an EU member today.
Smajlovic cited North Macedonia as an example, noting that "the ball is in our court and it is up to us"./ibna