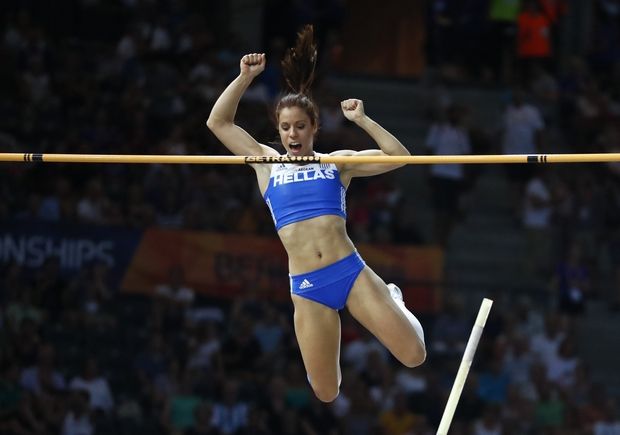 Greek pole vaulters Katerina Stephanidi and Nicole Kyriakopoulou got to the top of Europe at the 2018 European Athletics Championships that are held in Berlin after a fantastic final.
Stefanidi and Kyriakopoulou made the final their personal affair, turning it into a Greek duel on German ground and at last, occupying the first and second places on the podium, offering Greece a gold and a silver medal.
Both cleared 4.80m and then it was a matter of who would best deal with 4.85m. Stefanidi's third attempt was the victorious one as she secured the gold, leaving the other Greek "flying" lady second, claiming the silver medal.
Stephanidi began at 4.65m which she cleared with her first effort and then went straight for 4.75m that she cleared at the first go. She did the same at 4.80m so she secured the top place. On the other hand, Kyriakopoulou began at 4.45m that she cleared at her first attempt, then 4.55m at the second and 4.65m, 4.70m, and 4.75m at the first time. She knew she had claimed the silver after clearing  4.80m at the second time, since Stefanidi had made it at the first. / IBNA
Main Photo: Katerina Stefanidi