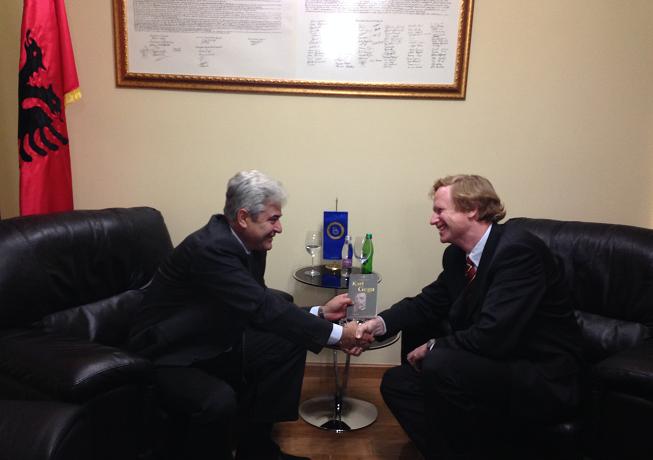 Skopje, October 25, 2013
Leader of Democratic Union for Integration, Ali Ahmeti said today that the status quo in the Euro integration aspect and the failure to resolve the name dispute is jeopardizing the achievements of FYR Macedonia.
Ahmeti stressed this in a meeting held today in Tetovo with Jan Kickert, political director of the Austrian Ministry of Foreign Affairs, Johan Satler, head of West Balkan office at the Austrian Foreign Ministry and Austrian ambassador in FYROM, Tomas Micheal Bajer.
"All the progress made in the 12 years after the war in the aspect of the integration of society, healthy inter ethnic relations and stability of the country are being jeopardized by the status quo and this status quo may risk to leave the country in isolation", said Ahmeti.
Austrian diplomats have stressed that Austria remains a powerful supporter of the integration of FYROM in the NATO and the EU and encourages an immediate solution to all the obstacles in this process.
Ahmeti stressed the geo political and geo strategic importance of the integration of the country and the region in the Euro Atlantic structures, by saying that this process brings sustainable peace, security and stability, but also an economic perspective. /ibna/