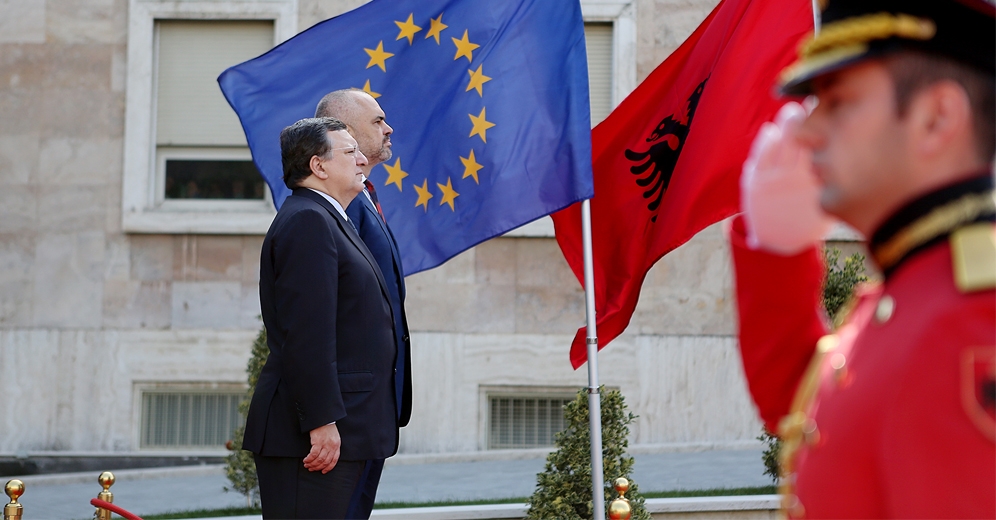 Tirana, June 30, 2014/Independent Balkan News Agency
President of the European Commission, Jose Manuel Barroso, is in an official visit to Tirana to talk about the EU membership candidate status, which Albania was granted a few days ago. This visit comes three years after the annulment of the 2011 visit, when the status was refused by Brussels.
In the meetings that he had with senior state officials and opposition representatives, Mr. Barroso said that "the Union is ready to see Albania as a member in the future", adding that "the status is a new chapter for the challenges of Albania".
In the meeting with prime minister Edi Rama, President Barroso handed the Agreement between the Republic of Albania and the European Union for the participation of Albania in the EU's "Creative Europe" program, with the aim of supporting and promoting the Albanian culture and art.
"The candidate status takes relations with the EU to a higher level, but it also marks the start of a period of challenges, such as the modernization of the country, economic development, consolidation of the rule of law and fight against crime and corruption", said Mr. Barroso. You will have the European Commission on your side, guaranteed President Barroso, and it will support all your efforts.
Rama: The status is followed by more intensive reforms
Prime minister Rama says that the granting of the status is a moment which presents for the Albanian government a new responsibility, while intensifying the efforts to carry out reforms which transform and modernize the country.
Barroso: Good news for the entire Southeastern Europe
The granting of the candidate status was recommended in two occasions by the European Commission. In the past few days, it was accepted in a unanimous way by the EU governments. Barroso says that this is good news for the entire region of Southeastern Europe. "This shows that the process of EU enlargement is a credible and dynamic process. EU honors its strategic engagements. We move forward when our partner countries offer results".
This new chapter is believed to encourage Albania to address challenges with determination and energy.
Barroso suggests that: "In order to move forward in the EU accession process, Albania must intensify its systematic approach for the reforms, being focused on key priorities, in particular on the rule of law, fight against corruption and organized crime and judiciary reform".
On the other hand, Barroso calls on cooperation between majority and opposition when he says: "A country which is highly polarized, can be seen as problematic and not as a positive asset for the EU integration process".
Relations with Serbia are praised
The Serb government congratulated the Albanian government about the status. This was also praised by the President of the European Commission. He said today in Tirana that "we welcomed the incentive of prime minister Rama to meet with the Serb PM". Barroso says that this is more than a symbolical act. /ibna/