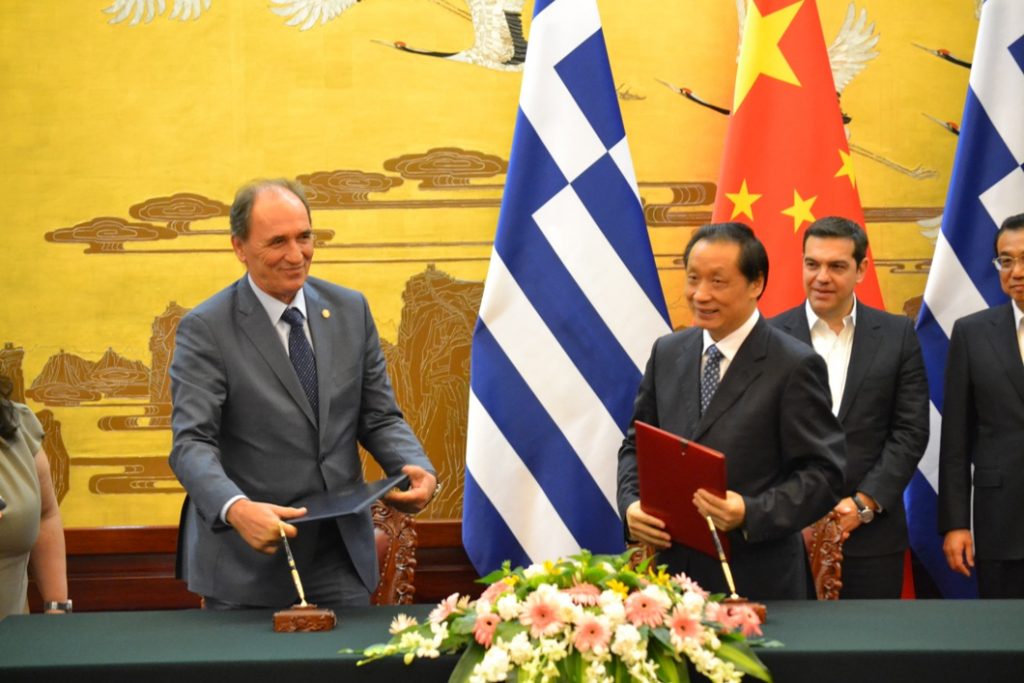 Beijing, July 5, 2016/Independent Balkan News Agency
By Spiros Sideris
Within the official visit to China branch of government under the Prime Minister, the institution of the Ministry of Economy, Development and Tourism for attracting investment and promoting exports, Enterprise Greece, in cooperation with its counterpart of China (China Council for the Promotion of International Trade) organized a Sino-Greek business forum for strengthening cooperation on shipping in order to stimulate growth (China- Greece MaritimeCooperation forum to Fuel growth).
Speaking at the start of proceedings, the Minister of Economy, Development and Tourism, Giorgos Stathakis, stressed the possibilities that are opened up for the greek economy through the cooperation with China, with particular emphasis on the prospects generated in the sectors of infrastructure and tourism. The minister signed an agreement for a three-year joint action plan by the Chinese National Tourism Administration. Among other things it provides:
Mutual tourist promotion of the two countries.
Cooperation, through the exchange of expertise in the field of special forms of tourism such as cultural, wedding, medical & wellness conference.
Cooperation in the mutual promotion of the film and television tourism with a view to mutually attract film and television producers in both countries.
Tourism education and training, through mutual organizing intensive Greek and Chinese language courses for professionals and workers in the industry.
Exchange of information on existing investment programs and incentives for new investment opportunities in the tourism sector.
routed start direct scheduled and non-scheduled flights between Athens and Beijing.
Strengthening cooperation within international organizations like the World Tourism Organization
As part of the forum members of Greek business delegation coordinated by EnterpriseGreece (together approximately 45 businessmen, coming mainly from the fields of technology, shipping, energy, tourism, health, cosmetics, agri-foods and mechanical equipment), made speeches-presentations and about 150 individual business meetings with Chinese businessmen. The forum was attended by over 300 Chinese businessmen.
Presence of Mr. Stathakis, the Chinese Minister responsible for maritime issues, Wang Hong and agency heads to promote the two countries extroversion, Christos Staikos and Jing Zengwei, signed eight cooperation agreements between Greek and Chinese enterprises, related to strengthening Sino -Greek cooperation in investment, real estate, commerce and technology.
The program of the mission is completed by other trade visits, including investment seminars and corporate presentations, tourism, technology, exports, IT and telecommunications and the financial sector. On Wednesday, the Greek delegation will travel to Shanghai, where he also planned business forum and in private business meetings.