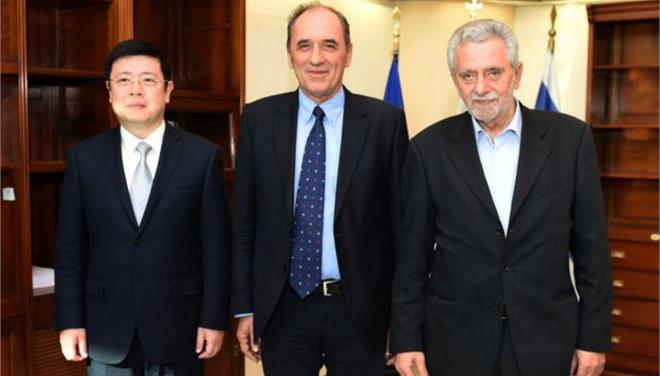 Athens, January 30, 2015/ Independent Balkan News Agency
By Spiros Sideris
Meeting with Minister of Economic Infrastructure, Shipping and Tourism Giorgos Stathakis and Deputy Maritime Minister Theodoros Dritsas, had on Thursday morning, a delegation of the Chinese embassy in Athens under ambassador Zou Xiaoli.
The meeting was requested by the ambassador of China, confirming thus the concern of the Ministry of Commerce of the country on the plan of Greek government to proceed as was announced by Giorgos Stathakis, with the interruption of the privatisation of the Piraeus Port.
This announcement alarmed the Chinese Trade Ministry, as it was done at a time when the Chinese company Cosco was a candidate for the purchase of the majority stake.
"We intend to ask the Greek government to protect the rights and legitimate interests of Chinese companies in Greece, Cosco among them", had said earlier Shen Danyang, spokesman of the Chinese Ministry of Commerce.
Discontinuance of infrastructure privatisation program was announced both by Stathakis and Minister of Productive Reconstruction, Environment and Energy Panagiotis Lafazanis, who spoke of the freezing of the privatisation process of PPC.
On his part, the deputy minister of Shipping Thodoris Dritsas, during the ceremony for the delivery of the ministry on Wednesday, had stated on the port of Piraeus and the agreement with Chinese Cosco:
"Agreements such as the ones with Cosco should be made in the framework of transnational agreements and we seek the strengthening of relations both with China and with other countries", he said, adding that the new government would "respect the contracts, such as the one with PCT SA (Cosco)" and will examine "all contractual obligations seriously".
The two Greek ministers, at a meeting held on Thursday morning with the Chinese delegation, tried to mitigate the concern of the Chinese side making it clear that the cooperation between the two parties will continue. And so, as was announced, "the two ministers and the ambassador agreed to engage in a constructive dialogue to enhance mutual cooperation".