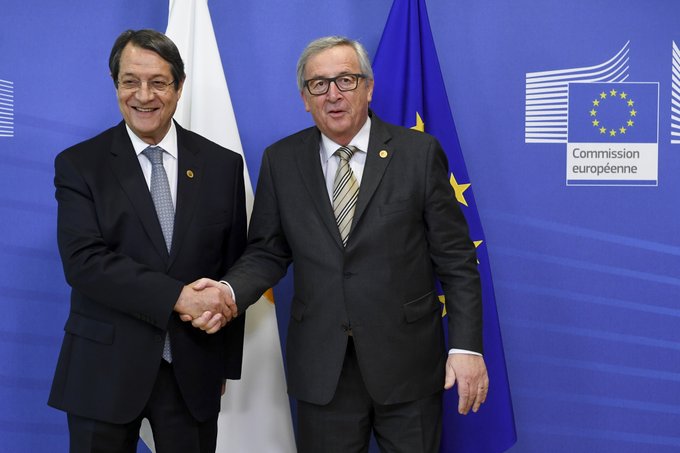 The Government Spokesman, Mr Nicos Christodoulides, stated after the conclusion of the meeting held between the President of the Republic, Mr Nicos Anastasiades, and the President of the European Commission, Mr Jean Claude Juncker, on March 9, in Brussels that "It was a very constructive meeting during the course of which the President of the Republic briefed on the latest developments in the Cyprus problem, expressed regret over the Turkish Cypriot side withdrawal from the negotiating table and stated his wish and readiness to resume the talks immediately. It was a shared opinion that any prospects for resolving the Cyprus Problem will be explored at the negotiating table and in this framework, hope was expressed for the negotiations to resume soon.
Further, and as it was expected, a discussion was held over the unacceptable Turkish demand over the four basic freedoms; a demand that under no circumstances can be accepted. It was a common belief that the issue regards all the member states and, in no circumstances, Cyprus merely. President Anastasiades expressed satisfaction over President Junker's stance and over the reaction so far demonstrated by the member states as a response to the letter he has sent.
Brexit was also discussed and in particular the aspects that affect the Republic of Cyprus. An exchange of views was also held on the Future of Europe and the discussions which are going to be launched today".
Responding to question over the position of Cyprus regarding the Future of Europe, Mr Christodoulides said that through the discussions which will be launched today and are expected to be concluded at the end of 2017, the President of the Republic will express the need for the EU to emerge from this process stronger, more effective and its decisions to meet the expectations of the Europeans.
Responding to a question as to whether the position of Lefkosia regarding the issue of the harmonization of the Turkish Cypriots, was understood and that this process should be in parallel with the negotiations on the Cyprus problem, the Government Spokesman said that "it is understandable, as it is also described in the letter sent by the President of the Republic to the President of the European Commission, that the working group, this committee, works in conjunction with the talks for solving the Cyprus problem. Let's hope that soon the Turkish side will return to the negotiating table so all the committees with are related to the talks, to restart their work."/IBNA
Photo: pio.gov.cy