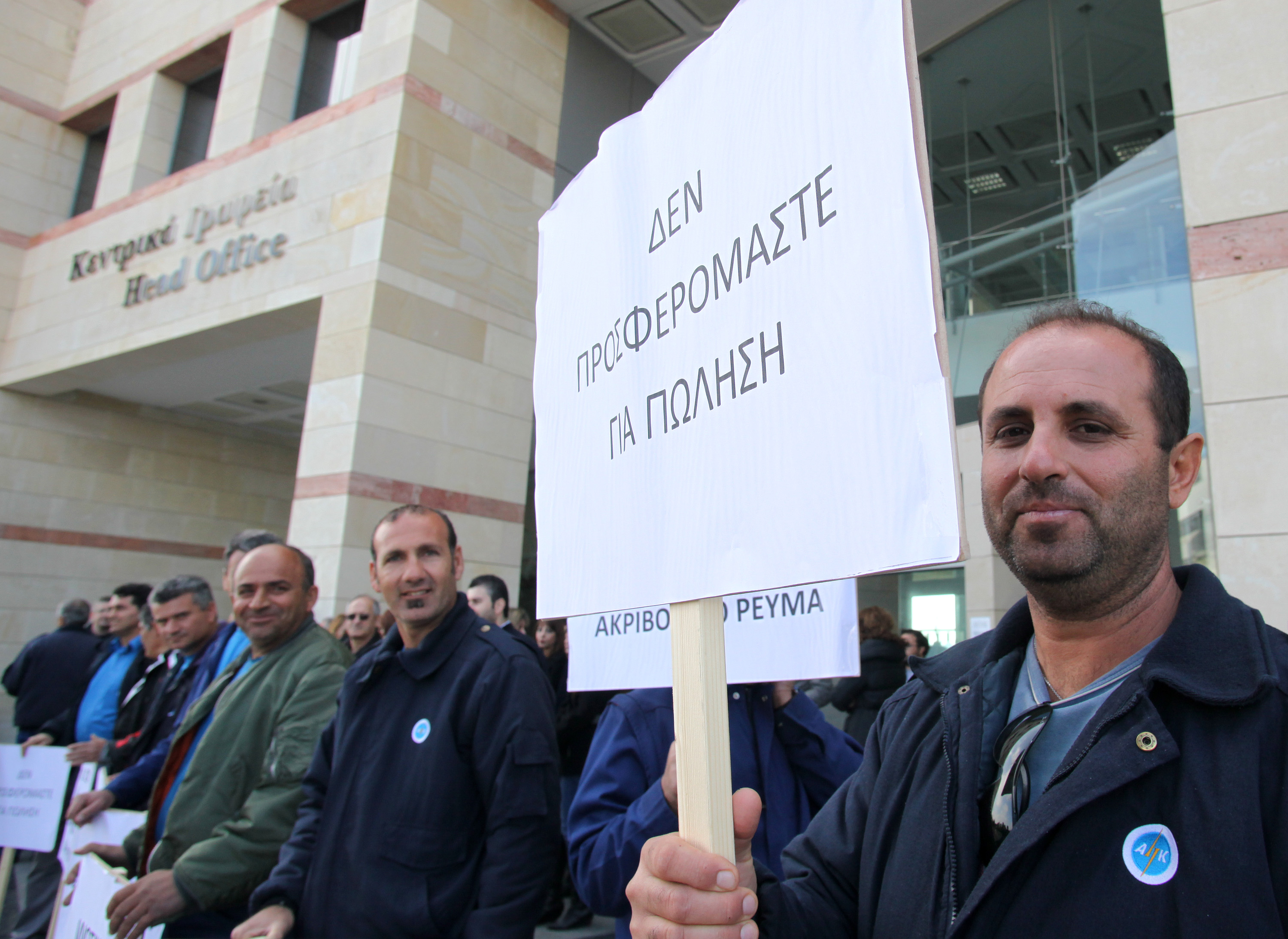 By Kyriacos Kyriacou – Nicosia
Tension rises once again in streets of capital Nicosia, while new troika measures are implemented in the name of "economic recovery". Today, employees from the Electricity Authority of Cyprus (EAC) went on strike, while personnel from the Telecoms authority (CyTA) will strike tomorrow to protest against the privatisation of semi-government organisations (SGOs). The measure is included in the Memorandum of Understanding signed by the Cyprus government, troika and international lenders, last year. In order to raise a budgeted €1.4 billion in revenue by 2018, the troika-mandated privatisation of SGOs is designed to auction off stakes in CyTA, the EAC, the Cyprus Ports Authority (CPA), and several others, to private investors.
Warnings for 24hour strike
Members of the EAC's trade unions stopped work today at 8am and resumed at 11am. They have warned that if the Council of Ministries approves the privatisation of semi-government organisations and sent the bill to the Parliament, they will stage a 24hour strike. "Without warning all of the EAC staff will strike for 24 hours and strike measures could escalate," an EAC trade union statement said. The government was granted a short extension to preparing and submitting bills regarding the privatisation of SGOs by the troika delegation on Monday.
"So we can save EAC"
"Our goal is to announce our opposition to any efforts to privatise the EAC so we can save our organisation, our national wealth and more importantly to resist by giving society, the public and future generations the great social asset that is electricity," the trade unions said.
Speaking to the Cyprus News Agency, head of the scientific personnel trade union SEPAIK Adonis Yiasemides said "privatisation would be catastrophic for our country and the organisation". In reference to the escalation of any strike measures on the trade unions behalf, he said: "It will definitely not be just a three-hour work stoppage" adding "our actions will be assertive and dynamic".
New strike tomorrow
CyTA employees are due to strike on Thursday between 9am and noon. They also organized a protest outside the presidential palace, while the cabinet is meeting. Trade unions threatened that employees would go on a 24-hour strike on Friday if the proposal is approved by the cabinet.
General Secretary of trade union APE-ATIK Alecos Tryfonides said that the privatisation bill did not contain any provisions to ensure labour and pension rights for SGO workers. He added that it only partially met trade unions' requests for consultations but that it was still unclear what format consultations would take. Tryfonides said that any privatisation should be voted on by parliament and not following a decree by the cabinet.