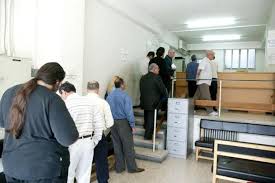 By Christos Meliopoulos – Nicosia
The harsh economic times in Cyprus have brought about a series of challenges for the country's Ministry of Labour and Social Insurance.
With almost 50,000 people out of work (seasonally adjusted data) meaning record unemployment rates, the ministry has had to make do with limited resources in circumstances of increased benefits and support demand.
IBNA understands that the 6.8 million euro funds kept aside for covering the state's contribution into redundancy payments are already gone and that an extra amount of up to 4 million euros is required.
"For us who see the situation everyday from within, things don't look good. I just can't see how all the increasing needs of the people can be covered. We do what we can, but things gave got very different in Cyprus; it's not the rosy times we were used to," a Labour ministry source lamented.
The country is for the first time experiencing the plight of poverty, which affects more people than most Cypriot official would be ready to admit. "I have never, ever in my life here seen people going through the dustbins or looking at the garbage of restaurants and grocery stores. They come out late at night when most streets are empty," says Andros Theoharous, a sexagenarian Nicosia resident. "They have their pride, that's why they are trying not to be seen. But I fear if things continue like that, then they will just have to look for food and beg anytime, anywhere, like it has happened in Greece," he adds.
The state is trying to make ends meet and the government has undertaken a huge fiscal consolidation effort under the demand and watchful eye of the troika of international creditors. But it also needs to step it up in terms of structural reforms. "We should have done what we are being made to do now on our own. But I'm mainly worried about how we will get back to some kind of normality. If you see the budget for development it says nil, zero," a civil service official said.
The Labour minister Zeta Emilianidou has been working overtime to come up with ideas and workable solutions. As she assured, the 2014 budget will include funds towards a minimum guaranteed income. This is hoped it will allay the hardship facing thousands of Cypriots for the first time. But at least for 2014, unemployment is not expected to be curtailed, so the pressure on the ministry will be on for quite some time.