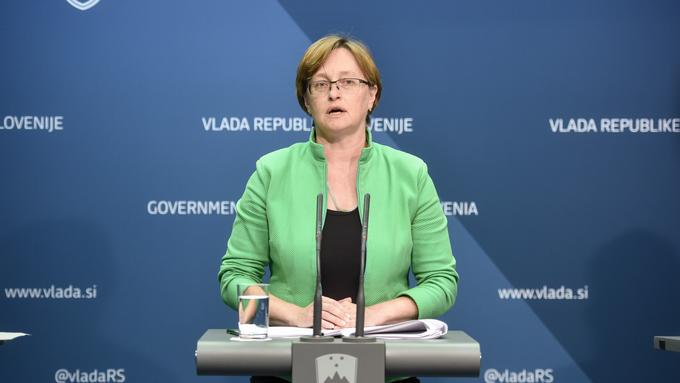 Ljubljana, August 25, 2016/Independent Balkan News Agency
Prime Minister Miro Cerar has picked Finance Ministry State Secretary Mateja Vraničar Erman as candidate to succeed Dušan Mramor as finance minister, following his unexpected resignation in mid-July.
"I've decided this very day to put forward to the National Assembly State Secretary Mateja Vraničar Erman as candidate for new finance minister," Cerar told the public broadcaster TV Slovenija in an interview.
He said the nominee was his own pick, but he believed that everyone in the government and coalition saw the state secretary as an exceptionally competent expert who had proved herself through her work.
Vraničar Erman, 50, has been serving as state secretary at the Finance Ministry for six years. She has been mostly responsible for taxes and customs, budget and public accounting.
Cerar believes Vraničar Erman to be an honest person who pursues the same goals as him; transparent public finances and lawful conduct. He expects her to follow the government's goal of good governance in public finance and management of state assets.
Vraničar Erman told the STA she would do everything in her power to continue the planned measures such as tax restructuring and careful management of public finances. She added she was aware of the great responsibility, but was ready for the numerous challenges.
The goals of the finance ministry have already been set in government programmes and the ministry's strategic documents, drafted under Mramor, who stepped down in a surprise move in mid-July, citing "purely personal reasons".
"Taking on such a responsibility after a minister like Dušan Mramor is a special challenge as the planned goals are set very ambitiously. On the other hand, the well tuned team at the ministry, a legacy of Mramor, is a guarantee that these goals can be achieved with a lot of effort, enthusiasm and working together with other stakeholders."
It is not yet clear when Vraničar Erman, who has served as state secretary under three different finance ministers, will present her vision of the ministry to the National Assembly.
This has to be done before MPs convene a session to appoint her. While the next regular plenary is scheduled for 19 September, an extraordinary session could be called before that.
Until the new minister is appointed, Minister for Development, Strategic Projects and Cohesion Alenka Smerkolj is acting as a stand-in.
Mramor ended his second term as finance minister after two years in office.
His main achievements include the continuation of the country's public financial consolidation, faster economic growth, better competitiveness, better credit ratings, lower costs of financing and the passage of the state asset management strategy.
Mramor highlighted Slovenia's exiting the excessive deficit procedure this spring as his ministry's main achievement. The country was also removed from the list of countries with excessive macroeconomic imbalances and its credit ratings have improved.
He also tackled the tax system with a reform that will need to be finalised by his successor.
If appointed, Vraničar Erman will have another important task – to introduce a real estate tax after the previous proposal was annulled by the Constitutional Court in the spring 2014. A big challenge will also be the upcoming talks on the national budget for the next two years.
Source: The Slovenia Times