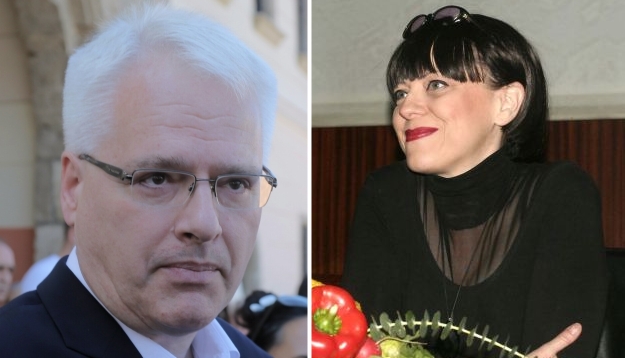 By Marija Avramovic – Zagreb
Popularity of the President of OraH party Mirela Holy is for the first time leveled with Ivo Josipovic's popularity, while her party after six months of continuous growth has stopped at 15.5%, according to the regular survey by Crobarometer.
According to the poll conducted on 958 examinees, which Nova TV disclosed last night,  the most popular politicians in the state are Mirela Holy and President Ivo Josipovic on which positive opinion has 68% of the population, but the president of OraH has more positive votes.
This is the best personal rating for Holy, while for Josipovic, even though he shares the first place, it is one of the worst personal percentages and all that on the eve of the presidential election.
Presidential candidate for Croatian democratic union (HDZ) Kolinda Grabar Kitarovic's popularity is in the third place enjoying the support of 55% of the voters, followed by Parliament Speaker Josip Leko with 48%, while at the bottom of the scale are Prime Minister Zoran Milanovic with 23%, just head of the HDZ Tomislav Karamarko with 22%.
After a slight recovery in July when the Social Democratic Party (SDP) for the first time after six months stopped the decline in popularity maintaining a rating of 19.6%, in August they dropped again to 17.5%.
From July's 24.8%, HDZ rose to 25.9% and currently is the single leading party in the state.
The third political force in the country in August is OraH with 15%, but this is the first month in which the party did not grow.
This month, the polls for the first time included the new party of former Deputy Prime Minister Radimir Cacic, "The Reformists", which started with one percent of support.
The reasons for stagnation in the popularity of one of the youngest political parties in the country, Croatian Sustainable Development or OraH, which is a Croatian word for walnut, may be sought in the party itself which is beginning to crack, according to some.
Andrea Feldman, a member of the presidency and one of the founders of OraH resigned from the party on Friday because of "disagreements in ways of leading the party and politics", as she said.
Croatian media speculate that Feldman resigned, among other things, because Orah would support Josipovic's presidential candidacy.