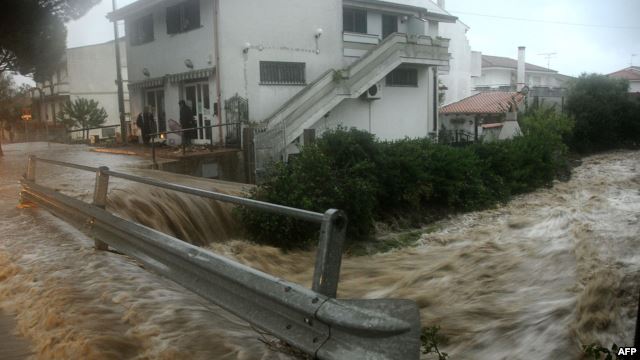 By Milos Mitrovic – Belgrade
Serbian government is to declare state of emergency in the whole country due to heavy rains and floods, prime minister Aleksandar Vucic said today. "This is unprecedented disaster in history of Serbia", Vucic explained. Prime minister is the president of Emergency situations headquarters.
State of emergency means that "all available capacities will be engaged to turn down the consequences of this natural disaster", Vucic said. He appealed to citizens in the flooded areas to follow the instructions of authorities.
"Nobody can defeat fire and water and the most important is to save the human lives", Vucic stressed. At least three persons, including fireman, died since the floods started on Wednesday. "It is senseless people to protect their belongings and livestock putting their lives at stake", Vucic emphasized.
The most critical situation is in Valjevo, Cacak, Loznica, Ub and Lazarevac, towns in western part of the country. Last night military units have joined police and firemen in evacuating the people from flooded areas.
State of emergency will be officially declared later today. Until early afternoon, 23 municipalities and towns have introduced state of emergency in local level.
Energy minister Aleksandar Antic said that approximately 100,000 people are cut off from electricity, mostly in Valjevo, Cacak, Loznica and Lazarevac. Around 500 citizens have been evacuated last night.  Evacuations are still in progress.
Many roads are blocked as well as railways Belgrade-Nis and Belgrade-Bar (Montenegro). Schools in Belgrade are closed until Monday. One "person" has drowned in Umcari near Belgrade, media reported. Mayor Sinisa Mali said that "person" did not follow the instructions of authorities regarding the evacuations.
The body of a man has been found in Danube near Novi Sad and fireman has drowned during rescue action in Topola, 75 kilometers south from Belgrade.