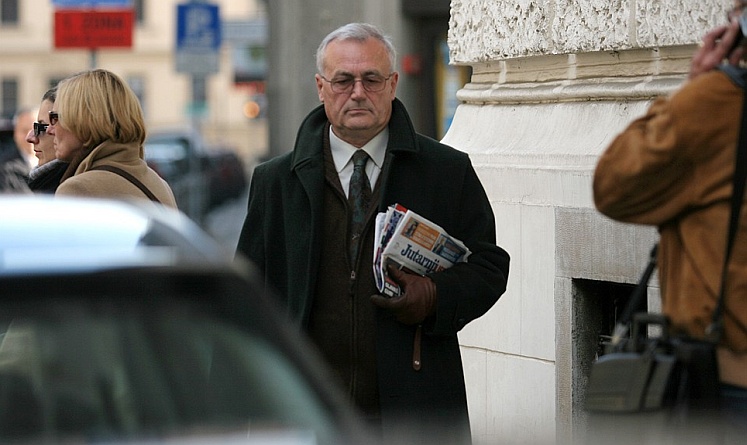 By Marija Avramovic – Zagreb
The trial of former high officials of Yugoslavia's, and later Croatian's secret service, Zdravko Mustac and Josip Perkovic started today  before the High Provincial court in Munich. The two former secret service men are charged with complicity in the assassination of Croatian emigrant politician Stjepan Đurekovic in 1983.
The Trial Chamber is presided over by Judge Manfred Dauster, who was also a member of the Judicial Council, which in 2008 convicted Krunoslav Prates to life imprisonment for complicity in the murder of Đurekovic.
The process, according to announcements, will start by reading the indictment, powers of attorneys and the names of witnesses and experts who will appear before the court.
Dozens of protesters gathered in front of the High Regional Court in Munich, on the eve of the trial, as part of the announced protests, in which members of the Croatian community are seeking the conviction of those responsible for the political murders of the Croatian emigrant, which were performed by Yugoslavia's secret service.
Upon arrival at the court, protesters started insulting Perkovic's attorney Ante Nobilo.
Perkovic and Mustac were extradited to Germany, after years of pressure by the German government.
Activists of Split association, Urban right hand, last night, in front of the building where the Social democratic party is located, staged a performance and held a banner that read 'Death to Communism', with which they wanted to send a message that in this way they wanted to express their attitude to the totalitarian regimes.
The performance that highlighted the banners saying "Death to Communism" was performed the night before the start of the Perkovic and Mustac trial, who are accused of, as the association stated, Udba killings in the territory of Germany.
"We wish to thank the European Germany on starting these court proceedings. Danke Deutschland", Urban right hand wrote in their statement.