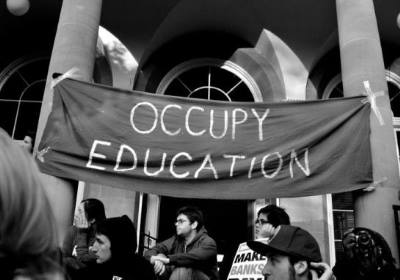 By Medina Malagić – Sarajevo
It is a novel idea. The conception of the idea to hold the first 'Open University' in Sarajevo stems from the lack of public space in this country since the end of the conflict in 1995 for open dialogue. What dominates the B&H public space is pervasive infiltration of political interests, which continues to circulate the same idealogy that keeps this country divided along ethnic lines, which is one of the primary reasons for the economic, political, cultural and social stagnation of B&H. In essence, every concern and pressing issue in B&H is seen from this limited prism, and is attempted to be solved through this prism. This might initially give the impression of incremental changes, but it is part of the illusion.
Thus, the Open University is an attempt to provide an alternative platform where ideas can circulate freely, as well providing a platform for public debates, social engagements and interactive education.
This laborious project will gather in one place local, regional and world experts, professors, writers, philosophers, journalists and activists, who will all endeavor to enhance public debate in B&H.
According to Open University, "the goal of Open University is to establish a platform that would promote dialogue, debate, social engagement and interactive education. Our desire is to bring speakers who will open topics that are not often present in B&H society and who will speak about them in a way that is not usually done in B&H-in open discussion in front of a wide and diverse audience".
This is an important step for B&H, since 20 years after the end of the conflict, the stagnation in this country has led to a degree of fatalism among its citizens. The tight grip of the established political order here gives citizens the impression that there are no other alternatives, that this is just the way things are here. What Open University will try to do is to dispel this idea, to show another much-needed perspective that could potentially serve as a harbinger in broadening vision and offering citizens a voice, and an opportunity to see that alternatives do exist.
Open University will take place in the Sarajevo War Theatre (SARTR) from 6 to 8 December.
At 16:00, a youth workshop will start, and 19:00 will signal the official start with a roundtable that will focus on the current crisis of the EU.