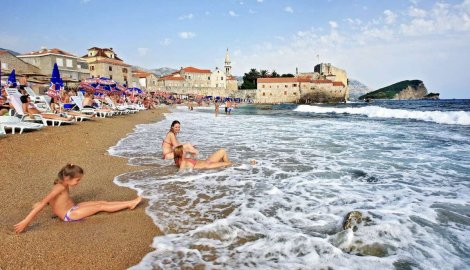 By Adnan Prekic – Podgorica
The tourist season in Montenegro did not start as expected, most coastal cities are still awaiting the arrival of more tourists and one of the additional problems is the bad weather conditions in July that struck Montenegro. Official statistics register a few percent less tourists compared to last year, but tourism officials say that there are much less customer than the last year. The only sector which showed an increase is nautical tourism, which year after year records strong growth.
Mid July is the time when on Montenegrin coast has the most tourists. This year's results were below expectations and the large number of tourists and the usual crowd is still expected. Official figures show that only Budva has 4 percent less tourists compared to last year. Tourism workers claim that there is significantly less customers and  a double-digit deficit is already obvious. The Montenegrin tourist association claims that the number of visitors fell by 20-30 percent compared with the previous year and the minus in the tourism industry this year is already certain. Justification is sought in the Ukrainian crisis, the flooding in the region, bad weather and the World Cup in soccer that just ended. Tourism workers believe that it is necessary for Montenegro to turn to markets such as Germany, France and Great Britain.
Unlike the main tourist season which started quite badly, the results achieved in the pre-season are quite good. Tourism workers register an increased number of tourists for a few percent and tourism officials have good announcements for September and October.
Montenegro has achieved positive trends in tourism for five years in a row. Last year, Montenegro was visited by nearly 1.5 million visitors, 3.6 percent more than in 2012. Montenegrin coast achieved a little more than 9.4 million overnight stays, an increase of 2.8 percent compared to 2012. The total number of nights of foreign tourists accounted for 89 percent, and most of the guests came from Russia and the former states of the Soviet Union, followed by Serbia and the EU member states. The average length of stay of foreign tourists in the last year was 6.3 days. Tourists from Russia and Kosovo stayed the longest, a little less than eight days. Domestic tourists spent on average about 5.9 days. The total income from tourism last year, according to estimates of the relevant Ministry, amounted to 721 million, which is three percent higher than that in 2012.