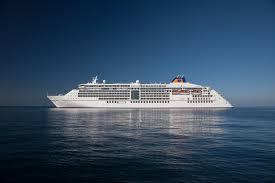 By Spiros Sideris – Athens
The "star" of the seas, the putative "best cruise ship in the world" in 2014, tied on Monday in the port of Thessaloniki.
Its name is "Europa 2" and has received this title from the specific version "Berlitz Cruising and Cruise Ships", which is regarded as the most valid in the industry.
Indeed, with its emergence as the best cruise ship in the world, "Europa 2", which was registered last year, broke a 14-year tradition that wants to be chosen for this title only older cruise ships that "count" years at sea. The title also held the cruise ship "Europa" of the same company.
The ship, which arrived at 8 in the morning in the port of Thessaloniki, is carrying 488 passengers, mostly German descent and has a crew of 373 persons, left for Volos at 9pm.
The ship, which is owned by Hapag-Lloyd Cruises is one of only two that according to Berlitz are given more than five stars ("5-star +).
The ship has, among others, eight restaurants and six bars, 15-meter pool, two golf simulators and spa, while in its "cellars" it keeps 1000 bottles of champagne, available at any moment!
Of course, the ship's amenities alone were not enough to keep passengers away from the attractions of Thessaloniki and the neighboring counties. The passengers of the cruise ship could chose among five tour packages or any of the available private tours.
Specifically two tours of Thessaloniki were offered, the one associated with visits to monuments and other places of interest and the other with a wine tasting at a local winery, an excursion program for families with children who wanted to go riding, a tour at Dion and a tour of the Old Panteleimonas and a daylong program of hiking and touring, ending in traditional taverns with local delicacies.
On private tours, the program is defined by the desires and interests of customers (eg Vergina or specific personal guide to museums, etc.).
And all this in just a few hours before returning to the ship, which takes them to Volos.
With 11 decks and a length of approximately 226 meters, Europa2, which belongs to the category of "small" cruise ships, has the ability to tie to smaller ports, outside the usual routes the giants of the seas follow.