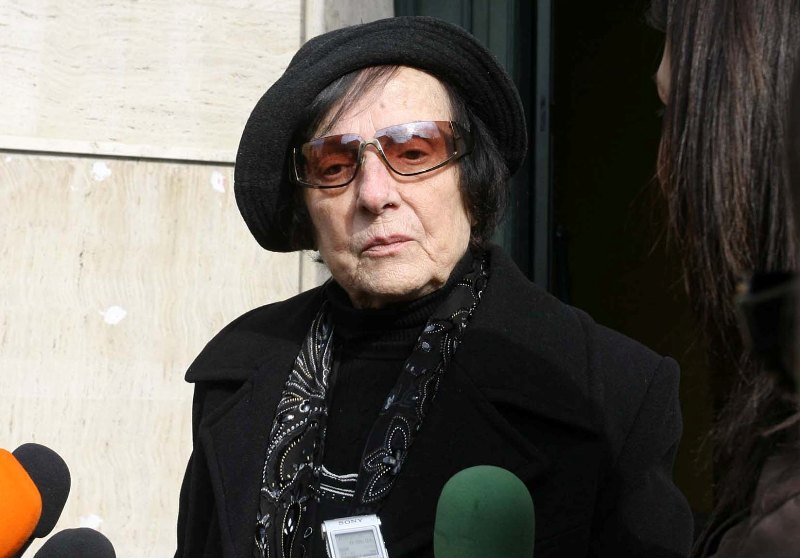 IBNA Special Report/ The famous Albanian actress Drita Pelinku has passed away at the age of 87 following a serious cancer. Her death was a great loss to Albanian cinema, where she had an important role. Drita Pelinku, Artist of the People, had been awarded many Albanian and international prizes and is known as one of the first women who played in Albanian movies. Pelinku has played at least 120 roles in films and theatre. On Thursday, the body of the late actress was taken amidst applauses of gratitude to her last abode through an official ceremony, accompanied by the pain of the family, friends, colleagues and every Albanian.
By Albert Zholi
This is how composer Zhani Ciko and famous Albanian actors such as Reshat Arbana, Tinka Kurti, Roza Anagnosti, Yllka Mujo, Luftar Paja, Skender Sallaku, Mevlan Shanaj remember her: "Farewell Drita Pelingu, great artist with a unique personality!"
Reshat Arbana, actor
I have so much to say about this icon of Albanian art. Pain doesn't let me utter my words. To me, she remains an original, serious and respectable actress. On the state she only knew victory and achievements. She was a multi-dimensional actress and with her roles, she will never die in the mind of the public. Personalities like Drita in the Albanian stage rarely come.
Mevlan Shanaj, director, actor
Drita was a typical woman who can be considered as citizen of the world. Since the beginnings of her life, since her difficult youth, she has worked to challenge reality and to triumph. She continued with this mentality throughout her life. She was an example not only in theatre, because an actress doesn't only belong to the theatre, but to the entire Albanian society. She triumphed in all incentives of life by playing an important role at the age of 85 and by ascending the stage with that rush and that phenomenal memory. People say that the older the wine is, the better it is.
Skender Sallaku, actor
Drita remains a reflection of the civilized courage and emancipation of Albanian woman since the beginning. She rose above time, over prejudices and brought on the stage the true figure of the Albanian woman. There's not a single role where she didn't culminate. Drita will not physically be with us, but she left her spirit, her work which will mentioned everyday in the meetings that artists hold.
Luftar Paja, actor
I feel bad about the fact that the great stars of the Albanian theatre are becoming extinct, but after leaving physically, they leave their great work behind. Drita Pelinku was a great artist, who not only had quality in her roles, but also supported young talents. This makes her different from every other actor. He loved artists who learned with heart. What she left to the young generation have no price, because she was an excellent professor, a great mother, a sincere friend and a visionary intellectual.
Zhani Ciko, composer, orchestra conductor
Drita Pelinku has an organic tie to music, because since the very beginning, she married to the bass-baritone Hysen Pelinku. Her husband has been one of the first opera singers, who has been one of the first characters to appear in the first opera shown in the Theatre of Opera and Ballet. Drita was an extremely fine woman. I have noticed that besides acting values, she also had significant human and spiritual values.
Roza Anagnosti, actress
Two or two thousand words on Drita are not enough. She was a great artist, in both theatre and film. She was intelligent and gave a great deal to Albanian art not only as an actress, but also as a professor. She has educated many generations of young actors. She has been my partner in many films and she has astonished me. Her generation was a golden one which left many traces.
Tinka Kurti, actress
I am twice upset as the others, as she was an excellent girl from Vlora who married a brilliant guy from Shkoder. So, she was a bride from Shkoder. We had in common both Shkoder and acting. Drita has been good to everyone. She was an honorable actress in our country. She was a professor and all her students remember her with respect. I would always find students at her home. She left with great pains that only she could endure. I feel great sorrow. Albania needed such people.
Yllka Mujo, actress
Drita was a great actress, a dear friend, a multi dimensional woman with a great heart, with strong character, with an extraordinary dedication in the profession and veneration of art. She was a master who knew how to produce a great lion from something very small. I have had good relations with her. There are things which cannot be said aloud, but there are other things of which only the heart can speak. When the heart speaks, the word that is uttered at a low pitch has a great value. Today my heart is wounded.