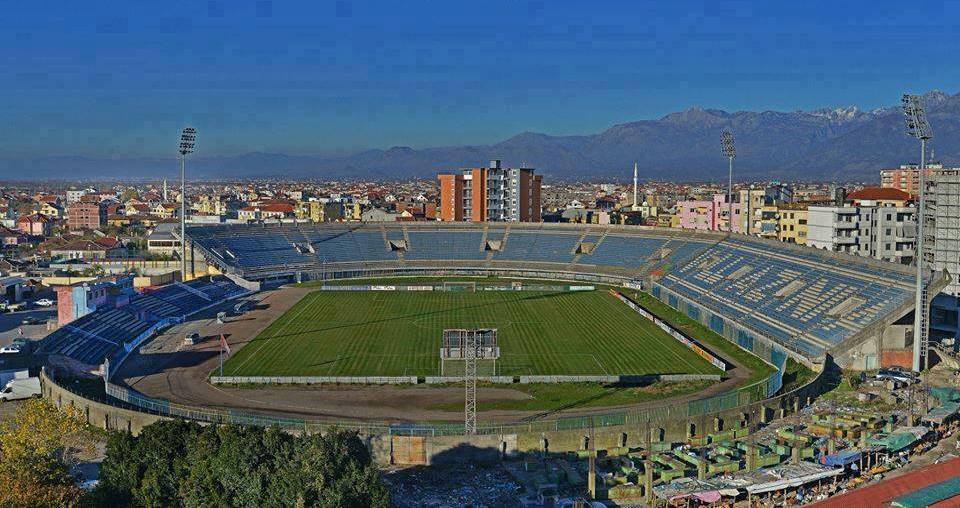 Tirana, April 7, 2015/Independent Balkan News Agency
The city of Shkoder has "Loro Boroci" stadium built in the 50's. But no matches are played there any longer. An entirely new stadium will be built there.
Created by a German-Australian architect, the new stadium of Shkoder will have an original image and not imitate another stadium.
The intervention will have a cost of 12 million Euros, more than twice the cost of "Elbasan Arena", the first stadium reconstructed in the past 25 years.
The head Sport Infrastructural Investments at FSHF, Arben Dervishaj and the responsible official of the Association who will follow up the works, unveils how the current stadium will change with the new project.
He says that "Loro Boroci" stadium will turn into a stadium of fourth category, which can host even Champions League matches.
The current tribune will be demolished entirely, along with the two raised sides and above it will be built a tribune which will have a capacity of nearly 2550 seats.
Besides this tribune, there will also be a side tribune, which is lacking in this stadium and which has a capacity of 2500 spectators.
There will also be interventions in the reconstruction of current tribunes.
But it's hard to say if the stadium will be ready in October for the match of Albania against Serbia.
"We're a month late, but if we work with two shifts, we're hoping to make up for lost time. Then it remains to be seen if we will be able to finish it all until then. Perhaps we can complete the first two phases, the central tribune and the existing ones and if we cannot make it in time for the other tribunes, this would not be a big problem, because its capacity will only be 2500 fewer spectators", says the head of investments at FSFH.
According to the calculations of the architect, the capacity of this stadium will be 17 500 spectators, thus turning into the biggest stadium in the country.
Meanwhile, the national stadium "Qemal Stafa" in Tirana, has been announced closed four years ago. A farewell match was played in it before it was decided to demolish it and build a new one.
This didn't happen, although it was said that the funds would be allocated by UEFA and FIFA.
Even today, this stadium continues to be empty, awaiting the much talked reconstruction. /ibna/