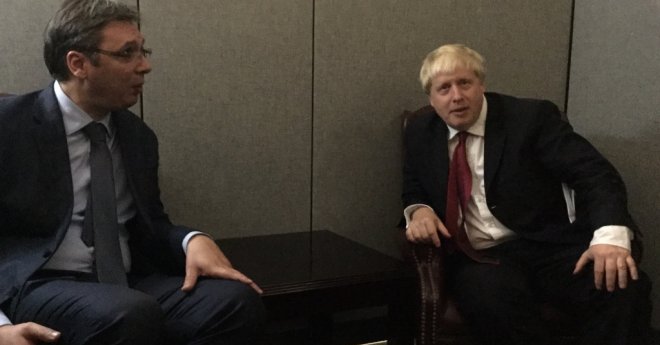 Belgrade, September 21, 2016/Independent Balkan News Agency
By Milos Mitrovic
The stability of the Western Balkans would be among the priorities of the United Kingdom's foreign policy, British Foreign Minister Boris Johnson said at the meeting with Serbian prime minister Aleksandar Vucic in New York today.
The meeting occurred at the margins of United National General Assembly session attended by both Johnson and Vucic. According to Belgrade media, Johnson labeled Serbia as "key country in the Western Balkans".
The atmosphere at the meeting was "very friendly and cordial", the public relations office of the Serbian government stated. Vucic and Johnson tackled bilateral and regional issues as well as British support to Serbia's accession to the European Union.
Vucic said that he believes in sincere friendship between Serbia and Great Britain. Next year the two countries will mark the 180th anniversary of the establishing of diplomatic relations. Serbian premier told Johnson that greater presence of the British companies in Serbia would be helpful for economic reforms in the country.
Johnson accepted Vucic's invitation to visit Serbia.
Earlier this year Vucic took part at the promotion of Johnson's book on Winston Churchil in Belgrade.