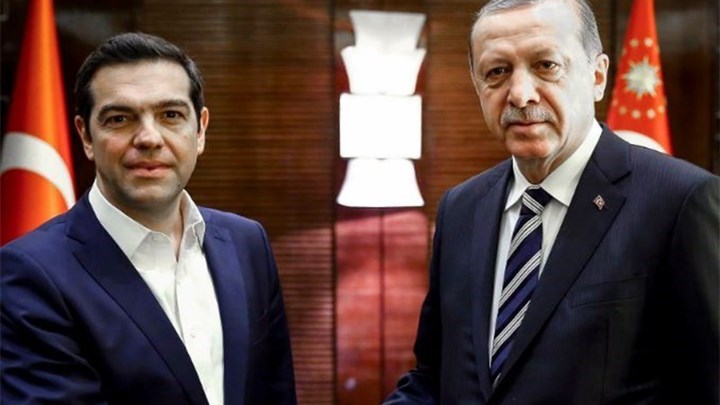 Piše: Manolis Kostidis 
Možda još uvek nema jasnih rezultata radne posete Aleksisa Tsiprasa Ankari i Istanbulu, ali to bi moglo postati očiglednije u bliskoj budućnosti, zbog odluka donesenih na privatnom sastanku dvojice lidera, ali i tokom proširenih kontakata između ministara.
Važan parametar je da se očekuje da će sevnapetost smanjiti u Egeju, uprkos neslaganjima koja postoje po mnogim pitanjima. Dan pre posete grčkog premijera, turskog visoki funkcioner Ibrahim Kalin, rekao je da će "tokom razgovora biti pokrenuta pitanja kao što su ostrva, turska manjina u Trakiji, itd." Međutim, u razgovorima Tsipras-Erdogan odlučeno je da će se dijalog između ministra odbrane Evangelosa Apostolakisa i njegovog turskog kolege Hulusija Akara održati u prvoj prilici na samitu NATO-a, kako bi se sprečila eskalacija i rešile potencijalne tenzije u Egeju. Međutim, bilo je jasno da je pre sastanka dva lidera u Turskoj otvoren komunikacijski kanal, jer po prvi put nakon 4 godine nije bilo prisustva turskih i grčkih brodova u području Imije na godišnjicu događaja iz 1996. godine. Faktor odsustva Panosa Kammenosa, iz Ministarstva odbrane, pomogao je da se situacija de-eskalira, što je bilo očigledno i u pregovorima između dve strane.
U vezi sa istraživačkim kontaktima, zamenik ministra vanjskih poslova, Giorgos Katrougalos, izjavio je da će se "za početak odvijati na nivou generalnih sekretara ministara vanjskih poslova i zamenika ministara. Ministri odbrane će se takođe sastati po pitanju poverenja. U kasnijoj fazi, u pregovorima će biti uključeni i ministri vanjskih poslova. Nakon ove pripremne faze, započeće istraživački kontakti.
Turska strana, kao što se vidi iz Erdoganovih izjava, insistira na pitanju osam turskih vojnika koji su pobegli u Grčku i kojima je odobren azil. Ankara traži njihovo izručenje, budući da su optuženi da su učestvovali u pokušaju državnog udara, a tursku vlada je na dan dolaska Alekisa Tsipras u Tursku objavila nagradu za njihovo dovođenje. Grčki premijer pojasnio je da se odluka grčkog pravosuđa poštuje jer je nezavisna. Međutim, Turci insistiraju na svoj osmorici i traže da ne napuste Grčku i odu u drugu zemlju kao i da ne ostanu naslobodi. Istovremeno,postavljeno je pitanje gulenista koji su pobegli u Grčku, a Turska ih optužuje za terorizam. U svojim izjavama, Alekis Tsipras je rekao da će postojati mehanizam saradnje kako teroristi ne bi prešli u Grčku, ali nisu dali detalje.
Teološka škola Halki i poseta grčkog premijera privukli su pažnju medija, ali izjava Recepa Tayyipa Erdogana, koji je pozvao na rešenje pitanja muftija u Trakiji u zamenu za ponovno otvaranje Teološke škole, pokazalo je kako Ankara pristupa tom pitanju. Prema turskoj strani, uklanjanje imenovanog muftije i postavljanje promatrača na njegovo mesto predstavlja mali korak u pravom smeru. Ankara tvrdi da bi muftije trebalo da budu izabrane a ne imenovane. Zapravo, postoje informacije da su postojale ideje o izboru muftije od imama, a ne od celokupnog sveštenstva, prema standardima drugih zemalja. Za sada su razlike o tom pitanju ostale, ali ne treba isključiti nove poteze sa grčke strane. Međutim, prisustvo Ibrahima Kalina u Teološkoj školi pored Alekisa Tsipras i ekumenskog patrijarha je znak da je poseta grčkog premijera organizovana uz saglasnost Turske, ali i značaja koji ovoj instituciji daje Erdoganova vlada. Samo turski predsjednik Tayyip Erdogan može doneti odluku o ponovnom otvaranju škole Halki, rekao je zamenik ministra vanjskih poslova, Giorgos Katrougalos, Anadoliji.
U vezi s kiparskim pitanjem, na sastanku s premijerom Grčke, turski predsjednik Tayyip Erdogan govorio je o ponovnom ujedinjenju Kipra. Izveštaji ukazuju na to da je dogovoreno da se počnu kratki pripremni sastanci o kiparskom problemu, ali nije odlučeno na kojem nivou, niti o vremenskom rasporedu.
Stav grčke strane je da bi pripremni sastanci između dve strane trebalo da počnu uskoro, ali na kom nivou ostaje da se vidi. Jedino što je poznato je da će uključiti ministarstva vanjskih poslova. Alekis Tsipras je insistirao da Republika Kipar ima pravo na istraživanja, ali kao u izjavama nakon sastanka, on je rekao da energija može biti sredstvo saradnje svih strana.
Pitanje o kojem se obje strane slažu je problem izbeglica, budući da traže više pomoći EU i dogovaraju se o saradnji funkcionera kako bi se smanjio dotok i povećao povratak. Dotok u Turskoj je pao za 85%, ali prenatrpanost izbeglica u Egeju je pitanje za koje je dogovoreno da se riješi boljom saradnjom o povratku.
Na ukupnom nivou, na turskoj strani postoji zadovoljstvo zbog dijaloga koji je ponovo započeo, i sada će svi čekati na naredne korake, a najvažniji je grčko-turski Savet za saradnju na visokom nivou, za koji se očekuje da će biti održan u Solunu 2019./IBNA