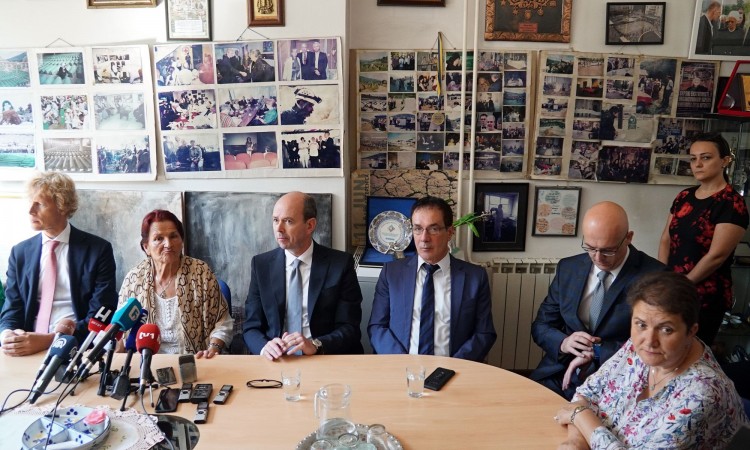 After the Supreme Court of the Netherlands handed down a final judgment on July 19, establishing partial responsibility of the Netherlands for the deaths of some 300 Srebrenica men killed on July 1995, an international law team representing victims of the Srebrenica genocide dissatisfied with the degree of responsibility established, has announced that an appeal would be filed within the statutory time limit (six months) to the European Court of Human Rights (ECHR) in Strasbourg.
Dissatisfied with the extent/degree of responsibility that was found/reduced to just ten per cent by the judgment, the victims are resolved to continue the legal battle that began 19 years ago.
Even so, despite the reduced scope of liability, the judgment in the said case constitutes a legal victory.
"After 19 years of working on the case, we were able to achieve a legal victory, because no one in the history of the European and world judiciary has ever been able to get a verdict declaring a country responsible for the failures of its soldiers engaged in a UN mission," said a member of international team of lawyers, Semir Guzin at a press conference in Sarajevo, FENA reported.
Guzin, who is staying in Sarajevo with members of the team, attorneys Simon van der Slujis and Marc Gerritsen, in order to harmonize the next legal steps, said that the ruling, which has now become final, found that the Netherlands is responsible for the payment of compensation to the victims of the genocide in Srebrenica.
He stated that that responsibility was unfortunately reduced to an unacceptable ten per cent and that the verdict limited the number of people who could claim compensation and that it covers only those who were killed after members of the Dutch Battalion expelled them from the military base in Potočari.
He specified that their heirs/relatives – parents, wives, children, siblings (about 1,000 people) with whom they lived together are entitled to claim compensation and that it would amount to ten per cent of the total amount to be determined later on.
This is compensation for non-pecuniary damage (for the suffered psychological pain) that is the same for all and material damage that will be determined on a case-by-case basis.
An international team of lawyers representing victims is currently engaged in the preparation of compensation cases.
Guzin recalls that, in the meantime, victims' associations have been provided with appropriate questionnaires, which should be filled by the claimants in order to be able to specify the harm suffered in each individual case.
"After collecting this information, we open negotiations with the state of the Netherlands in order to try to determine, through the negotiations, out of court, what that compensation would be," Guzin explained, stating that the process should be completed quickly and that if no agreement is reached, new court proceedings should be initiated./ibna