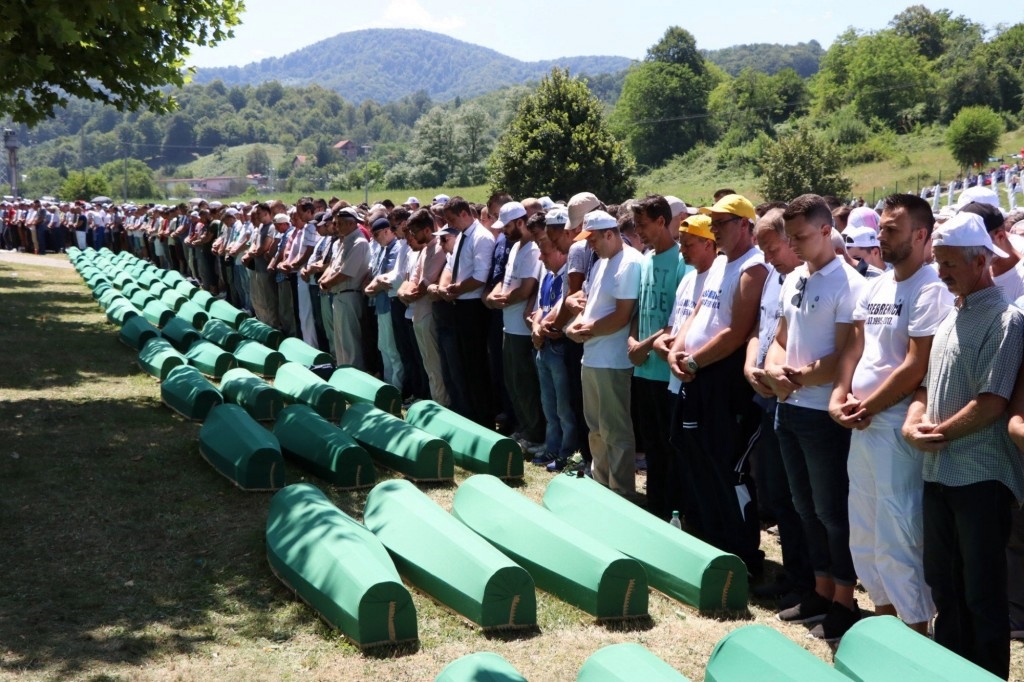 Hot weather, a large number of participants and tears of families of Srebrenica genocide victims marked the commemoration of this tragic event, which took place 22 years ago.
July 11 every year is the opportunity for victims families to gather in the small city in the BiH remembering the one of the largest crimes in Europe since WW2. The commemoration was also the opportunity for the funeral of the 71 victims of the genocide, identified since the commemoration last year. The event this year was not attended by a large number of foreign officials, presidents or prime ministers of other countries. Instead of them, the ceremony was attended by ambassadors in BiH and heads of international organizations delegations.
The ceremony was another opportunity for Bosniak leaders to repeat their statements about those who committed this crime and those who are now trying to deny that there was the genocide. One of them is RS president, Milorad Dodik, who just once visited the place and the monument to the genocide victims.
Bosniak member og BiH Presidency, Bakir Izetbegovic, in his speech at the ceremony called Serbs to stop denying the genocide, saying that it is necessary for a better future for all nations in BiH. He also said that reconciliation is necessary but added that it will not happen until Serbs take the first move.
"Reconciliation and justice must be builded on the true, but not on provocations and negation of genocide. There will be no reconciliation before the complete defeat of that ideology", Izetbegovic said.
Former Srebrenica mayor, Camil Durakovic, said that the events in this city in 1995 were the organized plan of "para state institutions of Republic of Srpska" and that the battle for the truth about these events will continue in the future. He added that Srebrenica expects the first verdict for general Ratko Mladic and the final verdict for Radovan Karadzic at the ICTY in Hague, until end of this year.
Serbia didn't send an official delegation on the commemoration but Serbian opposition leaders, Cedomir Jovanovic and Nenad Canak, were among the thousands participants. They said that it is impossible to negate the events in Srebrenica and that Serbs must call it genocide more for themselves than for others. Serbian president, Aleksandar Vucic, stated that Srebrenica events are a "tragic and big crime". Few years ago he arrived in Srebrenica to attend the commemoration but the entire delegation was struck by stones. The investigation was implemented but the conclusion is still unknown to the public.
However, it is also obvious that there are some changes in the public opinion about these events in RS. Different attitudes were visible in the reaction on the demand of one group of Serb nationalists to hold a "peaceful gathering to show the support to general Mladic" on July 11. The Ministry of Interior gave the permission for this event in Banja Luka but the pressure of public was so strong that the license was withdrawn with the explanation that "Ministry of Interior have not enough police officers to secure both events"./IBNA