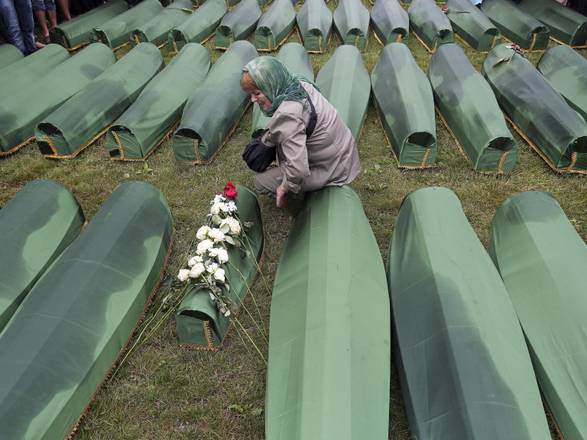 By Mladen Dragojlovic – Banja Luka
Srebrenica, a small city in northern Bosnia and Herzegovina, 19 years ago went through the biggest war crime since WWII and became one of the most known places on the planet.
Every July 11 the survivors and members of the families of the citizens who were killed gather on a central ceremony to bury the victims who were identified in the previous year. This year, 175 newly identified victims were buried. Two international courts, through their valid judgments, said that Srebrenica massacre was a genocide.
This year's ceremony was different than the ones before. The organisers did not want to call politicians to speak on the commemoration, there was no political speeches and the only one who spoke was president of Srebrenica municipality, Camil Durakovic.
In his speech, Durakovic said that the bodies of about 2 000 victims is still waiting to be discovered in mass graves.
"We cannot forget or change the past, but it must warn us on the present and the future. We know that thousands of innocent victims were killed just because they had been faithful to their culture, religion, homeland and tradition", said Durakovic.
He added that the graveyard in Potocari, with about 7,000 graves of the Srebrenica victims, must serve as a message for future. Durakovic stressed that "evil is never forgotten, and many will not be able to forgive".
Among several thousands of visitors and families members was the world famous movies producer, Branko Lustig, who as a child had survived the Nazi concentration camp in Auschwitz.
"The crimes committed in this place are unfathomable and are not different than the genocide that happened in Nazi concentration camps, as it was in Auschwitz. That is why young people must be reminded of that crime and everything must be done to prevent similar crimes in future", Lustig told the media.
But, no one for almost 20 years of commemorations in Srebrenica has mentioned that just a day after this date, on July 12, Serbs from villages around Srebrenica go to the graveyards to remember the victims of an attack by muslim forces in 1992. It was Petrovdan, Saint Peter's day, when the so called Army of BiH forces from Srebrenica attacked the villages Zalzje, Sase, Biljaca and Zagoni. They killed 60 people, 70 were injured and about 15 of them disappeared and their fate is still unknown.