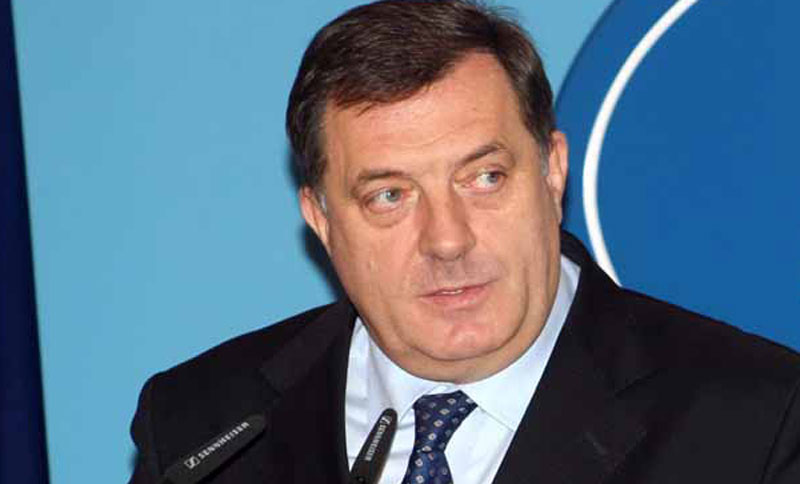 Banja Luka, June 10, 2015/ Independent Balkan News Agency
By Mladen Dragojlovic
Association of victims and witnesses of genocide and the Association "Movement of mothers from enclave Srebrenica and Zepa" filed a criminal charge against Republic of Srpska President, Milorad Dodik, for the criminal act of "Provoking of national, racial or religious hatred" which, as it is explained in press release, he committed several time in the past by denying the of Srebrenica genocide.
These associations stressed that the last time Dodik denied the genocide in Srebrenica it was on May 26, when he said that his "position on the matter is clear":
"No one denies that there was a crime but it was not a genocide, as Sarajevo insists. We regret that such a crime took place in that city and that many people were killed, but we also have information that the number of victims is significantly smaller than Bosniak politicians are saying", Dodik said in that statement.
President of Association of victims and witnesses of genocide, Murat Tahirovic, explained for IBNA that they have actually filed two criminal charges.
"It is the same document but we sent it to two addresses – to the Prosecution office of Federation BiH entity and to BiH Prosecution office. We expect that they act upon the lawsuits and prosecute Dodik in accordance with Federation laws. Changes in Criminal law which were made last year are saying that denial of genocide in Srebrenica is a criminal act and that the person who is indicted could be sentenced from one to three years of prison", Tahirovic said.
He added that it doesn't matter who committed this criminal act, rather that their duty is to protect the families of those who were brutally killed in July 1995 in Srebrenica. Tahirovic said that Dodik goes too far with his statements denying the genocide and that it makes it more painful for the families of the victims at a time when they are preparing the mark of 20 years since the genocide occurred.
"The court has proved the genocide in Srebrenica and those who disagree with that should remain silent at least during the period when Bosniaks are preparing the memorial ceremony and funeral of newly identified victims, Tahirovic stressed in his statement for IBNA.
Dodik's reaction on the criminal charge was typical of him – he repeated that there was no genocide in Srebrenica. In his statement to the media in Banja Luka he said that, regardless of whether the mothers of Srebrenica victims accept it or not, he empathises with their pain.
"I am not able to have full feeling because I didn't experience something like that, but as a human, politician and RS President I empathize with the pain of mothers who lost their loved ones during the war. But, also I know that associations which filed the charge against me have political importance and are involved in politics. This charge means that, if you say anything, you will be charged on the court. So, I will continue to claim that there was no genocide in Srebrenica, but it was a big criminal act, Dodik told reporters.
He added that it is necessary to establish an international commission which will work independently and determine the truth on all events in Srebrenica in the period 1991-1995. As he said, he is ready to accept any results that come from such a commission as truthful.
These verbal squabbles are coming in the period when the BiH Parliament is discussing about the Resolution on Srebrenica genocide which aims to condemn the act itself and emphasize the importance of acceptance of this crime in BiH public and among politicians. The Resolution will not be supported by Dodik Alliance of Independent Social Democrats and its coalition partners who have few MP's in BiH Parliament.
At the same time, politicians in RS are against UK initiated resolution about Srebrenica which, as it is announced, will be offered to UN for adoption. This Resolution is one of the rare things where Dodik and leader of opposition Party of democratic progress and Chairman of BiH Presidency, Mladen Ivanic, have a similar opinion on. Both of them told the media that this Resolution is against the Serbs and doesn't lead to reconciliation. Also, in separate statements, they estimated that it hides a risk of new divisions in BiH.