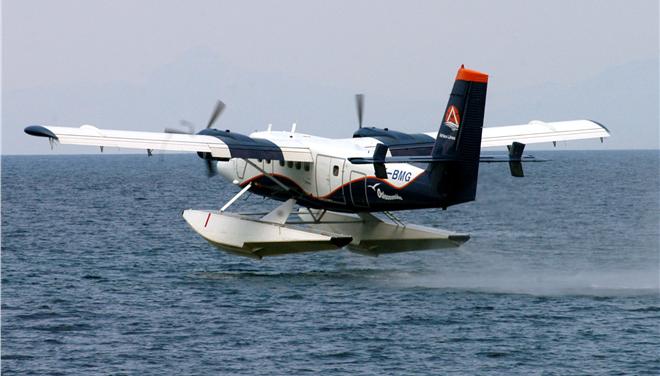 Athens, December 23, 2014/ Independent Balkan News Agency
By Spiros Sideris
In the spring of 2015 is expected to open its "gates" the first greek water airport in Corfu, in order to welcome tourists to the Easter period. "Key" for its operation will be the licensing of other water airports in the region.
After the signing of the decision for the construction of the first water airport in Greece, in the island of Corfu, last Saturday, from the Maritime Minister Miltiades Varvitsiotis and the Undersecretary of Infrastructure Michalis Papadopoulos, the water airport is ready to accept seaplanes and passengers and start its operation.
However, as explained to AMNA the chairman of the contractor company "Greek Sea Airports" Tasos Govas, "a prerequisite for a company to start its flight operations and become sustainable, is to be created in the wider region a minimum of water airports network, to which it will run its flight operations".
In western Greece the procedures for creating water airports in Paxos and Patras are at an advanced stage , which, according to the timetable of the same company, can obtain licencing within the next two months.
The water airport of Corfu will use, at first, two seaplanes from Canada, for the use of which the "Greek Sea Airporst" will cooperate with the Greek airline "K2 SmartJets», which at this time is in the process of integratiing seaplanes to its fleet.
In the water airport of Corfu have been designed a central and three alternative water strips, in order to have more points to land the seaplane, depending on the weather conditions.
In the water airport of Corfu will be employed ten people to begin with, and if flights are increased, and there will be further recruitment.
As stated by Govas, there is great interest from foreign investors to invest in Greek water airports, as the geomorphology of Greece is considered ideal for the operation of this transport medium, although there is skepticism for the unstable political climate and the constant changes in the tax legislation of the country.
The next goal of the company is launching four water airports in Crete (Chania, Rethymno, Heraklion and Hersonissos). In Crete will operate the second water airport developer company "Seaplanes of Greece", which plans the construction of a water airport in Sitia.
Seaplanes are expected to be versatile means of transport that can serve the tourism sector and meet health needs, cargo flights, seach and rescue flights and participation in firefighting for small fires.