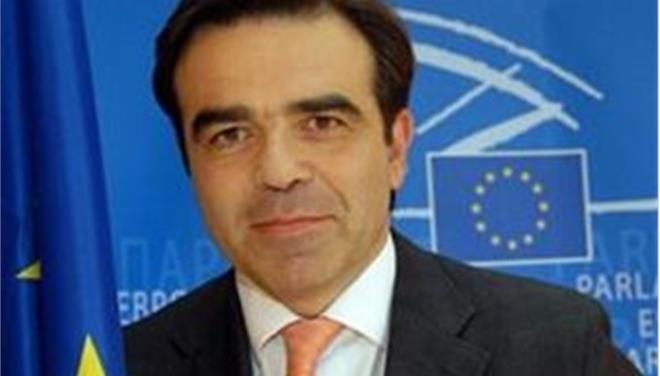 By Spiros Sideris – Thessaloniki
Margaritis Schinas will be the spokesperson of the new European Commission under Jean-Claude Juncker, as he announced through his account on Twitter.
The new spokesperson of the European Commission has been working since 1990 as a senior member of the European Commission, he served as a New Democracy MEP and the last few years had been deputy director of the Body of European Policy Advisers (BEPA) under José Manuel Barroso, as head of the Office of the General Directorate of Economic Affairs in Athens.
He was born in Thessaloniki in 1962 and studied law at the Aristotle University, Public Administration and Policy at the London School of Economics and Management at the Community College of Europe in Bruges, with a scholarship from the Ministry of National Economy. He was a Robert Schuman research fellow at the European Parliament.
He has served in positions of responsibility in the Commissioners' Cabinets and in particular foreign commissioners:
– During 1993- 1994 was a member of the office of Matoutes and Orecha.
– During 1999- 2004 he was deputy director of the office of the President of the European Commission, Loyola de Palacio.
– During 2004- 2007 he was director of the Office of the First Commissioner of the European Commission in Cyprus, Markos Kyprianou.
From 1994 to 1999 he was Director of Information in the EU delegation in Greece. While serving in these positions, he was involved in transport, energy, media, culture and communication, consumer and public health issues.
In September 2007 he was elected MEP with New Democracy, replacing Antonis Samaras. Schinas was a member of the Committee on Budgets of the European Parliament, member of the Joint Parliamentary Committee EU-Turkey, and substitute member of the Committee on Economic and Monetary Affairs. After the completion of his term in July 2009, he returned to his organic position in the European Commission, as principal adviser and deputy director of the Bureau of European Policy Advisers of the European Commission. He speaks English, French and Spanish.