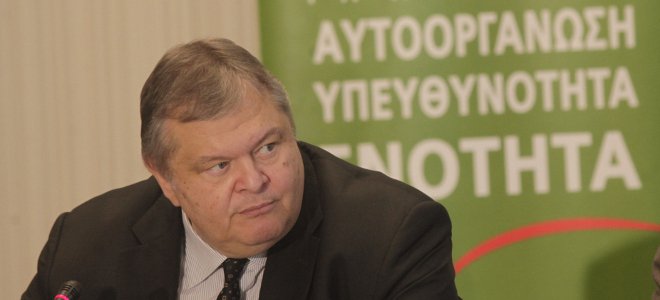 Athens, December 8, 2014 / Independent Balkan News Agency
By Spiros Sideris
Indirect but tough spikes at former Prime Minister Giorgos Papandreou launched on Saturday the president of PASOK Evangelos Venizelos, leaving hints even for uncertainty and instability that may arise for the government and the country from the side of PASOK. The Deputy Prime Minister, without naming its predecessor, described a political scenery of instability that could occur immediately after the election of the President of the Republic. Venizelos essentially delimited any move on the part of Papandreou to the period after the election of the new President.
"It is unthinkable", he said in a speech to the members of the Coordinating Secretariat of the Democratic Side, "after the election of the President of the Republic our own 'space' to become a source of uncertainty and instability for the country", and noted that he is not going to let that happen. Venizelos also left spikes against SYRIZA, asking those present to be "ready for developments that will occur due to the irresponsibility of others, for petty party interests, with the country as the actual target, the position of which is questioned and challenged".
Papandreou spoke of "asymmetric situations" and noted that "a few people, even one man is enough to do devaluate the work of many others". He also spoke of contempt towards history, the present and the future of PASOK and the Democratic side. He also stressed that the efforts of the MPs of PASOK are being hidden, "because publicity is dominated by others views, others supposed initiatives".
Venizelos completed his analysis saying that he avoids referring to intraparty issues, due to the  priorities that exist in this period in relation to the economy, the negotiation with the Troika and the foreign policy. "Frankly", he said, "we do not try to mislead the public debate".