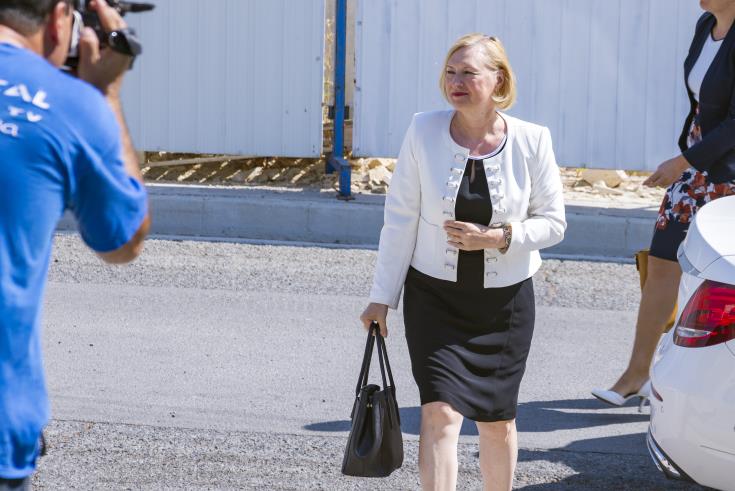 Nicosia is awaiting the finalization of the tripartite meeting
By Michalis Michael
The feeling of unrest remains due to the uncertainty regarding the prospects of negotiations on the Cyprus issue being relaunched, UN Special Representative in Cyprus and head of the UN peacekeeping force on the island (UNFICYP) Elisabeth Spehar stated, while speaking last Friday at an event for the commendation of the UN police force members serving in Cyprus. Miss Spehar stressed that "these are critical times" for both Cyprus and the wider region, noting that the United Nations remain deeply committed to the goal of achieving peace in Cyprus as well as of helping leaders the island's people to pave the way for a brighter future for all.
She also added that recent polls have shown that the desire for peace remains among the majority of Cypriots in both communities and has become even stronger.
The UN official noted that UNFICYP plays a vital role in supporting the talks on the Cyprus issue by helping to create conditions conducive to successful negotiations and a viable and lasting outcome.
Meanwhile, a government source disclosed to CNA today that it would be "surprising" if UN Secretary-General Antonio Guterres's meeting with the President of the Republic, Nicos Anastasiades, and with the Turkish-Cypriot "Prime Minister" Mustafa Akinci, did not eventually happen. The meeting, as Foreign Minister Nikos Christodoulides said last week, and is expected to take place in a European city in late November. What is left is for the meeting's time and place to be finalized, the same source pointed out in the CNA, noting that there is an open channel of communication with the United Nations for this exact purpose.
The meeting … in Berlin
According to the latest information, Nicosia is awaiting UN Secretary-General Antonio Guterres' arrangements regarding the tripartite meeting which is unofficially on its way to be realized. It is most likely, and against all indications to date, that it will take place in a European capital, notably in Berlin. This will be an important development, as Turkey has never, to date, accepted any contacts on the Cyprus issue in a European capital.
At the same time there is news circulating the Cypriot media that a five-part meeting might even take place without any agreement on the terms of reference, which was what UN envoy Jane Lutte was going for. Officially, however, such information is not confirmed, since it remains a fact that the UN Secretary-General is expecting from the leaders to agree on the terms of reference in order to proceed even with the tripartite meeting.
The situation on the Cyprus issue remains the same, while there is radio silence around Turkey's activity within the EEZ. The EU, after adopting conclusions on Turkey and in line with readings by political parties in Cyprus, is getting ready to impose sanctions against persons and companies involved in the illegal Turkish drilling operation in the EEZ. As is customary, these actions are not disclosed as they comprise very complex legal acts and the "briefing" is out of the question before an integrated sanctions strategy can take place. /ibna