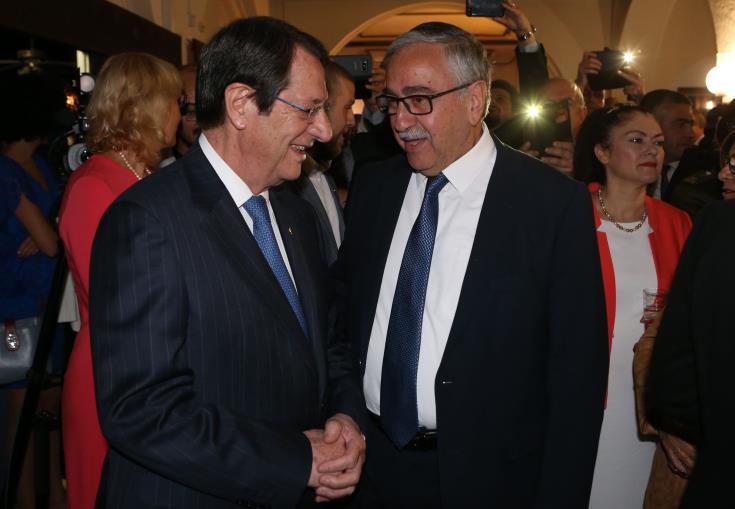 The two met at a UN reception
By Michalis Michael
In the presence of the President of the Republic of Cyprus, Nicos Anastasiades and Turkish Cypriot leader Mustafa Akinci, took place on Thursday night the reception for the celebration of the United Nations Day. The event, which took place at the Ledra Palace Hotel, in the dead zone, in Nicosia, was also attended by UN Special Envoy in Cyprus and UNFICYP leader Elizabeth Spehar, who in her speech emphasized, inter alia, the need for the two leaders to step up their efforts to reach a decision on the terms of reference and return to the negotiations table.
Anastasiades and Akinci had the opportunity, after the handshake they had, to chat briefly in a cordial atmosphere surrounded by attendees at the event, with Spehar occasionally participated in their conversation. President Anastasiades arrived at the reception first, while Akinci arrived shortly after, accompanied by his wife. The reception was attended by political, religious leaders and other personalities from both communities, as well as foreign diplomats. In addition to Spehar, two young people, one Greek Cypriot and one Turkish Cypriot, were invited and spoke about their expectations and hopes for the future of Cyprus.
In her speech, Spehar said, inter alia, that Cypriot leaders still have the opportunity to bring a mutually acceptable solution to the finish line, but will need to be ready to explain it and promote it to those they represent. Spehar further said that the United Nations, including the Secretary General herself, are ready to play their role and that all parties will need to do the same.
He characterized the UN's contribution to peace in Cyprus as significant, noting that the organization was 19 years old when the peacekeeping force in Cyprus (UNFICYP) was created. She said that the crucial role played by the organization during the many years of its presence in Cyprus, sending peacekeepers patrolling the dead zone, maintaining peace, bridging differences, building trust and working to enhance understanding between communities, continues.
She also said that while talks have stopped, the world around us has not stopped, and changes are taking place with significant impacts on and around the island, in the region and globally, with the current environment posting a challenge.
Spehar also noted that there were positive moments in 2019. The leaders, she said, have been contacting each other on various occasions, under the auspices of the UN, to work to bridge their positions and pave the way for a return to the negotiations table, and these efforts are largely ongoing.
It should be noted that the previous meeting between Anastasiades and Akinci was at an informal reception given by UN Secretary-General's Special Representative Jane Holl Lute on September 6, before her departure from Cyprus./IBNA