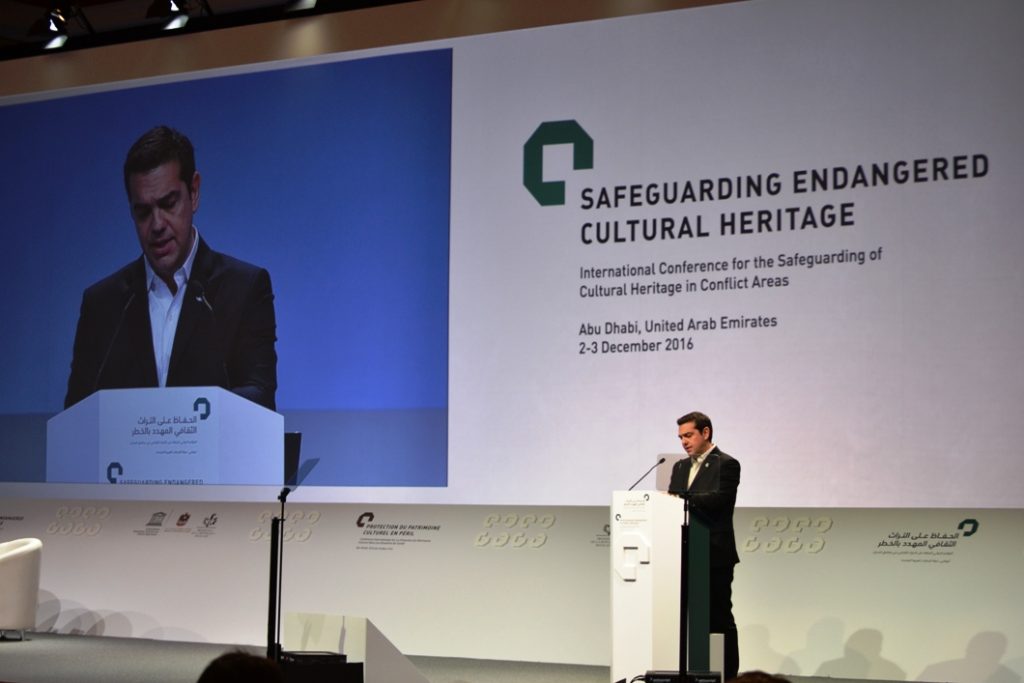 Your Highness, Excellencies, Dear Participants,
I would like to warmly thank our hosts for the excellent hospitality and the organizers – the United Arab Emirates and France – for today's Conference. The world is witnessing an alarming escalation of violence and extremism. Armed conflicts and terrorism challenge not only peace and security, but the core principles of humanity.  Deliberate attacks against cultural heritage have been used by terrorist groups as a weapon of war, in order to demoralize populations and destroy what is precious for nations' identities.
The persecution of individuals on cultural grounds, combined with the deliberate destruction of their heritage, can be described as "cultural cleansing". During the previous decades, the international community, through the UN and in particular UNESCO, have created a legal and institutional framework for the protection of cultural property, both in times of peace and armed conflict.
Greece as an EU state, but also a state with deep roots and historical ties in the area, is actively consolidating its regional role as a pillar of stability and security. In this context and as a state with a rich historical heritage dating back thousands of years, we have always been at the forefront of the aforementioned efforts.
The protection and preservation of cultural property, the participation in the elaboration and the monitoring of international cultural conventions, as well as our active role within UNESCO and the UN, demonstrate our continuous engagement towards a dynamic international cultural policy.
Greece, an elected member to UNESCO's Executive Board, is also holding the Chairmanship of the Intergovernmental Committee for the Protection of Cultural Property in the Event of Armed Conflict, which is the monitoring organ of the 2nd Protocol to the 1954 Hague Convention.
We are actively involved in the fight against both the deliberate destruction of cultural heritage in conflict zones and its side-consequences, namely the illicit trade of looted cultural property, including online sales.
Today, more than ever, we need to work closely together for the global management of our common cultural heritage.
Thus, recognizing the imminent role of UNESCO as well as the existing international legal framework, we believe that this important new initiative for the creation of an international network of saving and protecting cultural property, has to be realized in close coordination with the relevant institutional Committees and organs of the UNESCO Cultural Conventions.
In this respect, we believe that 'safe havens' for cultural property should be regarded as the last option while the depositing state should receive specific guarantees for the safe  return of its cultural properties.
Welcoming the Political Declaration I reiterate the readiness of my country to take part in the "safe havens" international network, within our existing capacities. It is our shared responsibility to preserve cultural heritage for the sake of humanity and promote a culture of peace and dialogue for the future generations.
Thank you./IBNA
Photos: IBNA/Spiros Sideris