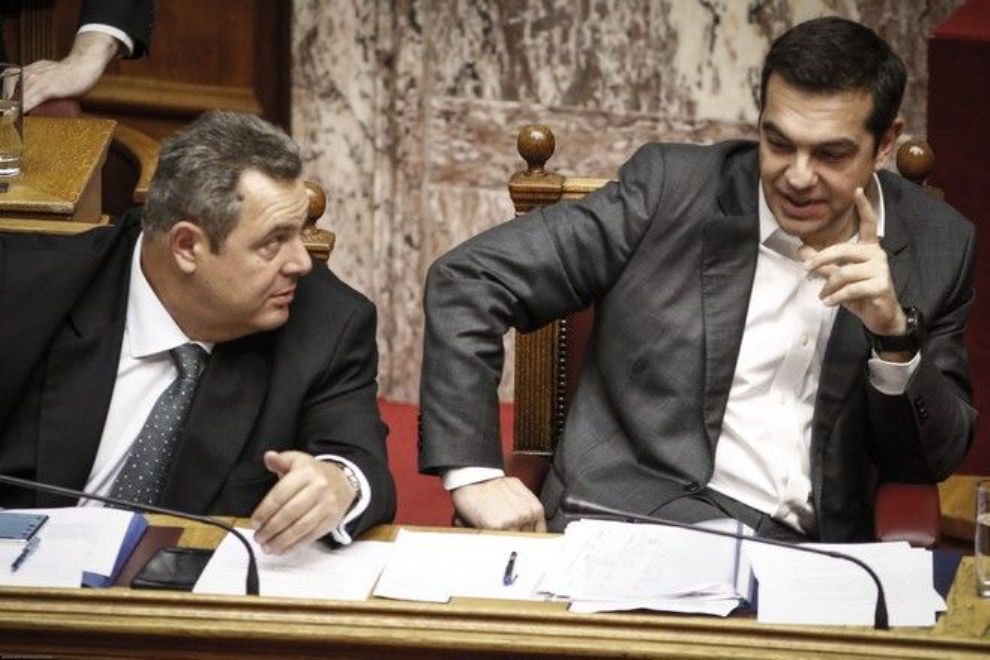 Speculation mounted on Tuesday in Athens that the SYRIZA-Independent Greeks (ANEL) coalition government is on the brink of breaking up due to a disagreement over the FYROM name-change deal known as the Prespes Agreement.
Local media report that left-wing SYRIZA is already making plans for government without the backing of right-wing ANEL which is expected to quit the coalition imminently. It is not yet clear if Panos Kammenos' ANEL party will quit the coalition before the Prespes accord comes to Greek parliament for ratification or sooner. The party's parliamentary group meets tomorrow to determine its stance.
As things stand, ANEL appears split over which course to take with regards to the name-change deal. Party leader and Defense Minister Panos Kammenos has vowed to drop out of the coalition in order to block the Prespes accord – which he sees as detrimental to Greek national interests – from being ratified. However, it is believed that a significant number of ANEL MPs and ministers backed by the party may vote in favor of the agreement.
Prime Minister Alexis Tsipras, meanwhile, is considered to be determined to continue in power without junior coalition partner ANEL. The SYRIZA political secretariat reportedly discussed the formation of a minority government in the event that Panos Kammenos drops out of the current government scheme. In order to continue in office, Tsipras will seek the support of six independent and opposition MPs when crucial legislation is put to the House.
Analysts point out that SYRIZA is also likely to survive a possible, but unlikely, motion of no confidence put forth by main opposition New Democracy. In any case, analysts point out that an election at the end of the four-year term is increasingly unlikely, considering the current climate.
The timing of the next general election – which must be called in 2019 – will largely depend on when the FYROM name-change deal will be put to Greek parliament and the result of a subsequent vote in the House. If Tsipras finds the majority to see the Prespes deal through parliament, he may be tempted to carry on in power, even with a minority government.
According to observers, if the SYRIZA-ANEL "divorce" is a velvet one, the PM could decide to ask for a vote of confidence, having secured that ANEL MPs will prop up a minority SYRIZA government.
Alexis Tsipras and Panos Kammenos are both scheduled to appear on television Wednesday./IBNA