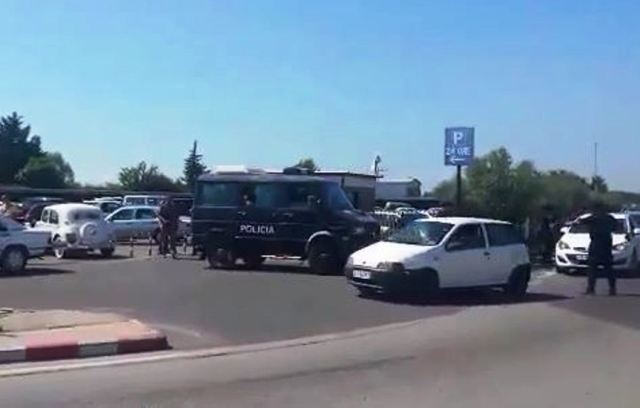 Tirana, 30 June 2016/Independent Balkan News Agency
A spectacular and outrageous robbery took place this afternoon in the only civil international airport of Albania.
Around 2:45 PM, in the "Mother Teresa" airfield, at least three people who were heavily armed and masked, robbed a bank, causing much panic among passengers.
The robbers managed to stop an armored vehicle filled with cash from an Albanian private bank which was taking the money abroad and managed to rob it without any difficulty.
Officially confirming the event, the State Police said that a monetary amount, which was being transferred with the vehicle of a security company, was robbed from the airplane terminal.
After taking the money, the authors have left immediately.
While launching a manhunt for the perpetrators, police have found a burned Mercedes Benz type vehicle, which is suspected to have been used by the authors.
State Police continues its investigations to discover and catch the authors and to shed light upon the event. However, there have been no traces of the perpetrators so far. This is the first time that such spectacular robbery takes place.
The Rinas airport which is currently being managed by a foreign concessionary company, is considered as one of the safest of the country. In fact, it has high security measures and it is surprising that in the middle of the airfield, where personnel, passengers and vehicles pass, such robbery takes place, which could have precipitated and taken lives of people.
There has been no official statement on the causes of this serious event. Neither the airport, nor government authorities have reacted.
Meanwhile, the opposition considered what happened as unacceptable.
Leader of the Democrat Party, Lulzim Basha said that "today's armed robbery in Rinas, in what should have been a safe territory in the country, shows that the law and order has collapsed and the state has fallen".
"People with heavy armament and masks enter the airfield and rob the money a day after it was declared that security measures have been boosted in Rinas airport in the framework of the measures against terrorism, following the attacks in Istanbul".
For the opposition leader, this serious event has shaken every security standard and "this is a direct accusation for Saimir Tahiri and Edi Rama".
"Under their power, crime knows no limits, it is protected and enjoys freedom. Albania is a better place without Edi Rama", ends the statement issued by the opposition leader. /balkaneu.com/