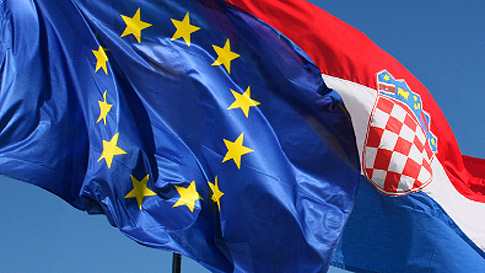 By Natasa Radic – Zagreb
The organizers of the EU entry celebration are sure in two things; that there will be no rain on late June 30th –July 1st – because they don't have the alternative scenario for the celebrations – and that the EU entry will be a spectacular celebration on Zagreb main square of Ban Josip Jelacic.
The officials in the Government still do not to reveal who will attend the ceremony as the final confirmation of all the VIP guests should be concluded by June 15th, but they are sure that it will be the highest EU level. The celebration will be held out in the open, with magnificent and spectacular show, as they announce it, and will be directed by Dora Ruzdjak Podolski. On behalf of the organizers, Tomislav Saucha invited the citizens of Zagreb and their guests to participate in the celebration on the main square that will include official speeches (but short ones), and cultural and musical festivities. Before midnight, just before Croatia officially joins EU as the 28th member, prime minister Zoran Milanovic will deliver his speech while after midnight the President Ivo Josipovic will be the one who will be the first to say a few words as the president of the new member state. At the same time, finance minister Slavko Linic will be at the border crossing between Croatia and Slovenia and will be the one to move away the sign "customs" between the two borders. On the border on the east, towards Serbia, at the same time, on midnight, the EU sign will be posted. The organizers are still not giving a lot of details on the main event at Ban Jelacic square in Zagreb, but they claim it will be a nice surprise and a night to remember.