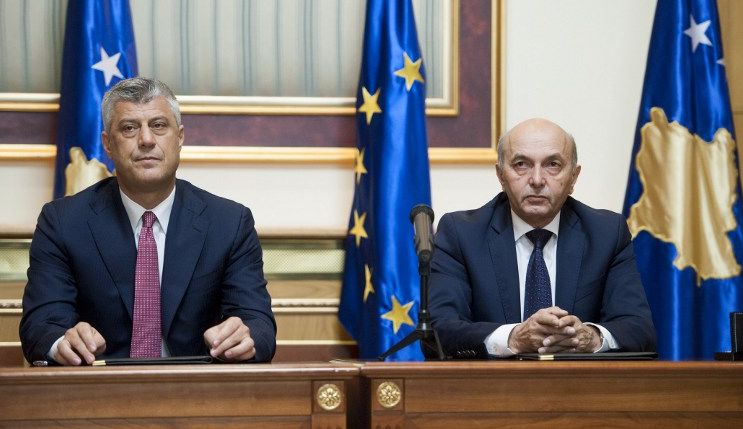 Pristina, March 9, 2015/Independent Balkan News Agency
By Elton Tota
Government of Kosovo has approved the constitutional amendments that give way to the creation of the Special Tribunal, which will try crimes allegedly carried out by members of Kosovo's Liberation Army.
Deputy PM Hashim Thaci, says that the creation of the Special Tribunal will unveil the truth over the unfair allegations that have been made.
"We have nothing to hide and therefore, confrontation with this problem is in the interest of everyone. Any other claim would be extremely damaging for the state of Kosovo. The approach that we have followed is the best one based on the circumstances. I know that this was not an easy decision, but it's the right decision", he says.
PM Isa Mustafa has considered the decision to create the Special Tribunal as the most difficult one taken by his government so far.
He said that the establishment of the Special Tribunal is in the best interest of Kosovo, as this would put an end to suspicions for war crimes by participants in the Kosovo Liberation Army war, Mustafa said.
"The establishment of the Special Tribunal will prove once and for all that the war of KLA was fair. We believe that this must be done, because the name of Kosovo, name of Kosovo Liberation Army, of the citizens, men and women who have participated in the liberation war, must come out clean", Mustafa said.
The government has proposed for the mandate of the Special Tribunal to be five years, unless it's requested to be shorter.
The amendments that have been proposed in the Constitution, have been sent by the government to parliament and after that, they will be sent to the Constitutional Court.
The government of Kosovo has decided to draft a special bill, which will guarantee legal protection for all those people who are accused by the Special Tribunal.
USA back the decision for the creation of the Special Tribunal
US embassy has welcomed the fact that the government of Kosovo has passed the constitutional amendments necessary for the establishment of the Special Tribunal.
"Kosovo is taking an important step in meeting its commitments of April 2014 on the occasion of Exchanging Papers with the EU", reads the declaration issued by the US embassy in Kosovo.
"This also shows the readiness of Kosovo to address the accusations against individuals stemming from the 2011 report of the European Council", reads the declaration.
The US embassy says that the government efforts will enable Kosovo to move forward and the support for the court will show the constant commitment of Kosovo toward the rule of law. /ibna/