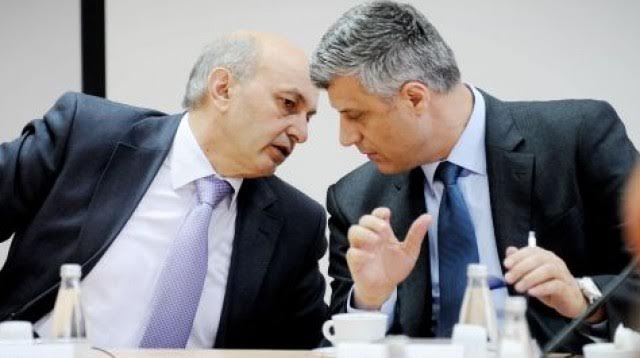 Pristina, 31 July 2015/Independent Balkan News Agency
By Elton Tota
Prime Minister Isa Mustafa and Foreign Minister, Hashim Thaci, said after the government meeting today that the creation of the Special Tribunal will be in the best interest of the country.
Prime Minister Isa Mustafa said that these amendments are being reprocessed in order to deliver the pledges made by the government.
Mustafa declared that the reprocessing of the amendments is not against the Constitution of Kosovo.
"The amendments are being reprocessed in order for the government to deliver the obligations that the government has assumed on April 23, 2014", Mustafa declared.
According to him, Constitution of Kosovo and parliament's regulation do not restrict the possibility that the government may send the same amendments to the parliament of Kosovo again.
"Therefore, I believe that the Constitution doesn't prevent us to send to parliament once again amendments which have been approved by the government", Mustafa said.
Meanwhile, deputy Prime Minister of Kosovo and Foreign Minister, Hashim Thaci, has justified the reprocessing of these amendments with the need to set up this tribunal.
"I believe that it's important for the present, but above all, for the future of Kosovo. We have made this commitment in front of the international community in a process of close cooperation and full transparency", Thaci said.
"I believe that this issue must unite us. This is a joint stately responsibility and must turn into a favorable circumstance for the Euro Atlantic future of Kosovo", Thaci added after the government meeting.
Thaci said that once this obligation is delivered, Kosovo will be given way for the liberalization of visas, accession in the European Council, Interpol, UNESCO and other organizations.
Meanwhile, the opposition continues to insist that the amendments should not be reprocessed.
Aida Derguti, deputy speaker of parliament, says that with this reprocessing, the integrity of parliament is being violated.
"Not everything that comes from the government must be discussed. I don't think that the amendment for the Special Tribunal should be processed and I don't think there should be a session for this. We must protect parliament's integrity", Derguti said. /ibna/