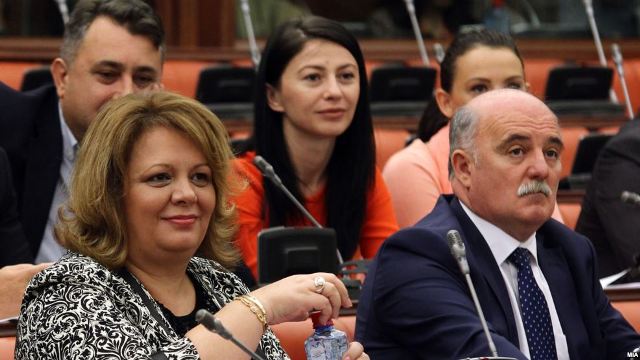 Skopje, 23 September 2016/ Independent Balkan News Agency
By Naser Pajaziti
Special Prosecutor, Katica Janeva has been a target of criticism from the largest majority party, VMRO-DPMNE, while presenting the report concerning the work of this institution during the first year.
For two days in a row, Janeva has talked about the investigations that have been launched, but she has also responded to the questions addressed by MPs.
"I can answer any question, because I have the support of former PM Nikola Gruevski and I know that  he fully backs my report", Janeva said.
Janeva has demanded from parliament to approve the new bill on the protection of witnesses, to implement the recommendations of the Venice Commission and extend the deadline for the investigations.
Meanwhile, leader of VMRO-DPMNE, Nikola Gruevski said that he was not happy with the work of the Special Prosecution.
"Her work is far from our expectations in terms of professionalism, independence and objectivity", Gruevski said.
BDI's MP, Rafis Aliti asked the Special Prosecutor if she will launch an investigation on the Sopot, Monster and Kumanovo cases, where Albanians are being accused.
"Will you take the Monster case? The entire opinion is wondering what will happen with it, both Macedonians and Albanians, because this case heats up the political climate and it is in the best interest of all the citizens to shed light upon it", Aliti said.
SDSM's MP, Petre Silegov asked the Special Prosecution to collaborate with Public Prosecution. He also said that majority MPs must not block the work of this institution.
"If majority MPs truly believe that that are not guilty, then let them accept the amendments requested by Janeva. Otherwise, they will be helping those who are accused", Silegov said.
The Special Prosecution has addressed the first charges and the main suspect in one case if former PM Nikola Gruevski, who had ordered the blocking of work in the Center commune and for the mayor of this commune, Andrej Zernovski to be slapped. In the second case, investigations are being focused on the full destruction of wiretapping equipment and the main suspect in this case is Goran Grujovski, former head of the fifth directorate at the Ministry of Interior.
The Special Prosecution was established in order to investigate the wiretapping affair after the political agreement reached between the main four political parties, with the brokerage of the EU Enlargement Commissioner, Johannes Hahn. /ibna/