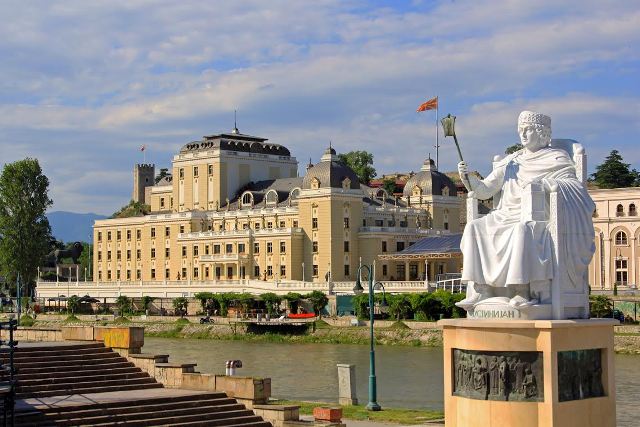 Skopje, 25 July 2016/Independent Balkan News Agency
By Naser Pajaziti
Special Prosecution in FYROM has launched a probe for the investigation of the project "Skopje 2014" which has had a cost of hundreds of millions of euros.
The investigations on this case relate to financial abuses amounting to hundreds of millions of euros by the government and Center commune in the framework of Skopje 2014 project, but also relating to breaches of the law and urban planning.
The first person who has been called to testify is the mayor of Center commune, Andrej Zernovski, who will appear before the Special Prosecution tomorrow. He has said that he will tell everything to the Prosecution.
But Center commune has announced that it has two audit report which identify irregularities with "Skopje 2014" project.
"Immediately after entering office, Mr. Andrej Zhernovski has ordered the drafting of two reports for Skopje 2014. These documents have identified a number of problems and legal breaches, monuments whose cost had been many times more than it was projected and unlawful procedures during the tender process", Center commune says.
Dragan Malinovski, member of the commission for the revision of "Skopje 2014" project told IBNA that there have been many irregularities.
"Our analysis pointed out a number of irregularities during the placement of monuments in the Center commune. First of all, it has not been the commune's responsibility to place them. Then, the procedure for the payment of the artists has been totally non-transparent. We also identified a number of irregularities in the public procurement procedures and the molding has been given to Italian foundries. This has caused damage amounting to more than 8 million euros", Malinovski said.
According to a study held last year on Skopje 2014 by BIRN research network, this project has had a cost of 560 million euros, although in 2010, it was said that it would have a cost of 80 million euros. While the initial number of monuments was 40, their number has gone up to 130.
The project was promoted by the government in 2008. This project has caused clashed and cross ethnic tension in FYROM, as the majority of symbols and monuments belong to the Macedonian community and a part of the figures cause anger among Albanians, as the second largest ethnic community in the country. /balkaneu.com/